Her Voice is back, and for the third episode of the podcast's new season, we had the honour to speak with Beatrice Borgia, one of Italy's most influential women in 2022 according to Forbes Italia.
With a Ph.D. in genetic engineering under her belt and an alumna of ESCP's EMBA programme, Beatrice Borgia has over ten years of experience working in innovative companies across the tech sector. Her career is marked by a continuous quest to get out of her comfort zone and create a positive impact for others.
Today, Beatrice Borgia is the chief corporate development officer of Teoresi Group, an international engineering services company that supports companies in the creation of projects with the most advanced technologies, as well as the president of the board for the Turin Piedmont Film Commission.
How have these diverse experiences affected her approach to innovation? Let's find out in the third episode of Her Voice Season Two.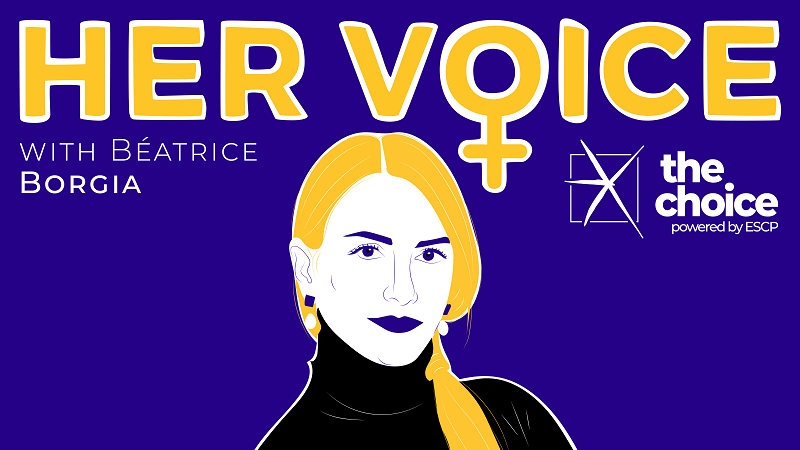 Getting out of one's comfort zone can have the most positive impact
When asked what makes her get up in the morning, Beatrice Borgia is categorical: "A lot of caffeine, and the chance to generate value for the community in a tangible way, whatever community we're talking about, whether it is the company I work for, my team, or my children."
Throughout her career in genetic engineering and MedTech, to AgTech, to now holding an executive position in an international engineering services company, Beatrice Borgia has never lost her commitment to having a positive impact through her work.
However, her path, which has seen many changes over the years, was not straightforward, as she explains: "The most impactful decision I took from a professional standpoint was to move from a corporate environment to a startup one right after my EMBA. I truly took a leap in the dark by leaving the beaten track in favour of something uncertain. This was driven by the fact that during the EMBA, I had heard over and over that in order to become a better leader, you also need to have that entrepreneurial spirit."
The innovative mind's way of creating value
Having managed innovation across sectors and companies of all sizes, Beatrice Borgia's definition of innovation goes beyond pure "scientific progress":
"Innovation can be defined as something different that creates value. It isn't just the work of engineers and scientists, nor is it limited to new product development. It all starts with the right intuition and right insights."
And to develop the right mindset or culture that will nurture innovation, Beatrice Borgia has a few pieces of advice: "You have to be open to failure, as it teaches resilience, inspires positive changes and provides new perspectives. But your environment should as well support creative thinking, and, for that, diversity and cross-fertilization are key."
To learn more about how we can all have a positive impact in our communities and encourage a culture of innovation in the workplace, listen to our conversation with Beatrice Borgia for Her Voice.