On the first episode of We All Make Mistakes, our podcast host Ben Voyer, a professor of entrepreneurship at ESCP Business School and a behavioural scientist, speaks with Dame Inga Beale, the former and first female CEO of Lloyd's of London.
Recognised as a role model throughout the LGBTQ+ community as well as one of the most successful businesswomen in the insurance sector, Inga Beale has many impressive titles. To the point where one might wonder: has Inga Beale ever made a mistake? Ben Voyer digs in to learn how Inga Beale became the successful and inspiring leader she is today.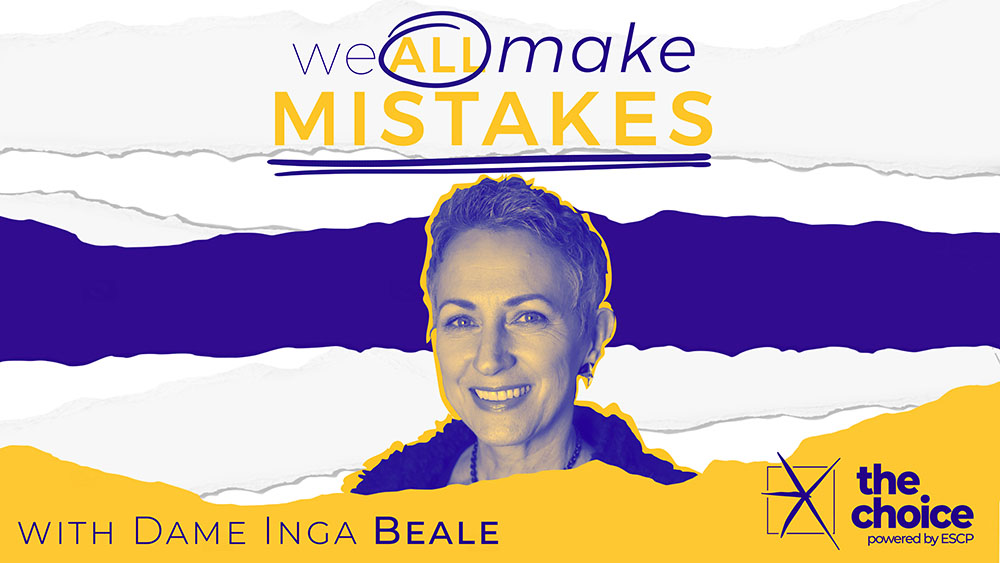 Speaking your truth
The art to my success, or part of it, has been the ability to be a bit of a chameleon and adapt in certain situations.
While Inga Beale recognises the usefulness of adaptability, she equally believes in the importance of authenticity. And it might actually be finding the right balance between the two that is the key to success.
"Some people find me terrifying and other people say, oh, but she's the most lovely thing in the world. And that's because I do this chameleon thing sometimes, although I struggle with it. I also want to be authentic, as much as possible."
This desire to not rock the boat may have led Inga Beale to follow some advice at the start of her career that she later regretted. "I was advised in various times of my career to not speak up about something, to not challenge, to not upset things, and I wish I hadn't followed that. In other words, I wish I had spoken up and I wish I had challenged." But Inga Beale did find her voice, and once again, it was her commitment to authenticity that motivated her to open up about her personal choices and be a role model for others.
"You can't have one view internally and a different view externally. It doesn't work anymore. With social media, the way everyone communicates, you can't have two different versions of something. And actually, I think it takes courage, means and time."
Impulsiveness can lead to beautiful paths
According to Inga Beale, impulsivity and impatience are what led her to make most of her mistakes, like when she walked out on a job in the late 80s and went away to travel the world:
"I have been a bit too impulsive at times. I left this company without giving it enough time because I just saw it going in one direction. Rather than staying and trying to change it or bring it back to a more modern environment, I just chose to give up and leave — and that's a mistake.
"Although that impulsiveness was also very positive. Walking out of that job in the late 80s, travelling around the world, meeting a female role model in Sydney, being inspired to go back and take the insurance sector back on, was a really positive thing."
An impulsive decision she confesses was partly caused by her personal life falling apart at the time. Something that we would never talk about in a professional context then, but that is now mostly accepted – especially with the impulse of younger generations. With Gen Zs accessing the job market, openly discussing mental health issues at work and in our personal lives is becoming very important. When Inga Beale started her career, telling your colleagues about personal matters wasn't a common thing. "I was in the closet for years and years, then I decided to come out as a lesbian when I went for a new job. When people don't know much about your private life, you can feel unapproachable, unfriendly, and it's partly because you're hiding this other stuff but people don't know that. I realised I was lying to people and I thought, 'this isn't good'."
I was advised in various times of my career to not speak up about something, to not challenge, to not upset things, and I wish I hadn't followed that.
To hear more about Dame Inga Beale's opinion on being a role model or on the challenges she's faced trying to modernise a centuries-old industry, have a listen to WAMM's first episode, available on all your favourite podcast apps.