On the fifth and final episode of We All Make Mistakes, podcast host Professor Ben Voyer speaks to failure expert and fellow ESCP Professor Christoph Seckler. Not that Professor Seckler has failed more than the average person throughout his life, but he has published widely-acclaimed work on how our organisations and people can better deal with errors.
So, are you looking for a way to better own your mistakes? Christoph Seckler has a few ideas on where to get started.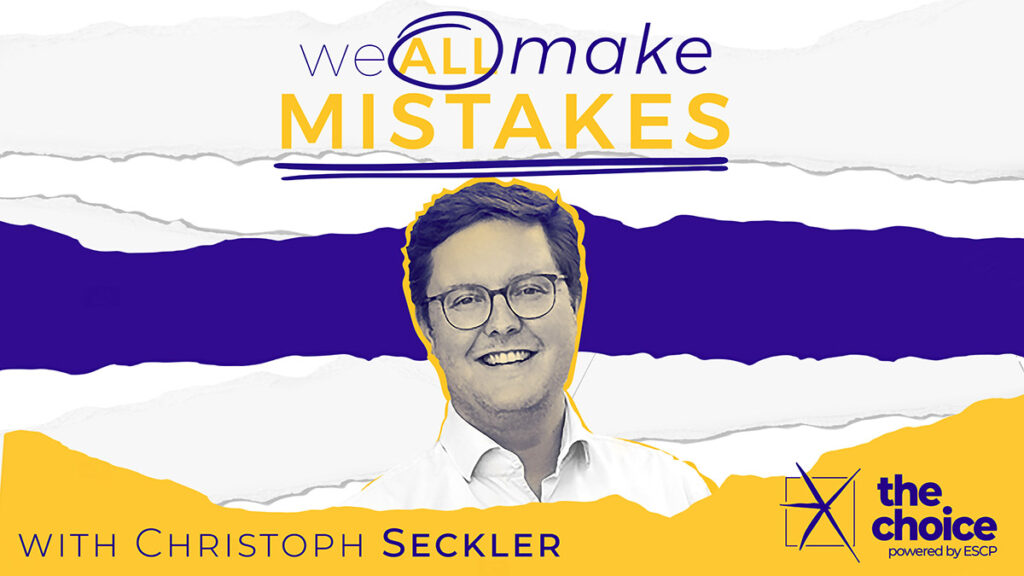 Our environment plays a role in the way we deal with mistakes
Everyone makes mistakes, and those who will tell you otherwise would (indeed!) be wrong. However, when dealing with our own shortcomings or those of others, the way we react to being wrong or having made the wrong choice is crucial. As Christoph Seckler tells us:
"The people that we surround ourselves with have a heavy influence on how we deal with our personal mistakes. Sometimes it's very easy to tell some people about your mistakes without any apprehension. And other times it feels difficult to speak up. We know from research that culture has a tremendous effect on how individuals and teams deal with their mistakes."
Throughout his professional and academic life, Christoph Seckler has focused his research on error management and how organisations, as well as individuals, can better learn from failure. Something he admits he was not very comfortable with at the beginning:
"There is some truth to the fact that a lot of researchers choose to study topics that don't come easy to them. And I believe at first I was not very good at dealing with mistakes. When I was younger, I mostly saw errors as negative things. And through my research, I've learned to appreciate errors and mistakes as part of life, and that they have both positive and negative aspects."
Humility, the key to better error management?
Christoph Seckler's research has led him to appreciate a particular soft skill: humility, or "a willingness to see oneself as we are and ask for feedback," as he puts it. And humility goes along with teachability, a key skill for personal improvement and a real asset for organisations:
"Humble people have the urge to learn from people who they perceive have more knowledge on a topic than they do. We also found that humility is actually a much better predictor of an error-management-orientated organisation, which is more constructive in dealing with errors than self-efficacy [an individual's belief in his or her capacity]. This is interesting because until then, we thought self-efficacy was the panacea for dealing with mistakes."
Being humble also means being able to acknowledge where we are wrong, and where events were out of our control. And when you find yourself making a mistake, Christoph Seckler recommends acting as follows: "What I found to be very helpful is whenever a mistake happens, to briefly take a minute to think about it and to reflect about whether this was a one-time mistake or something more systematic. Briefly think about the thing, draw some lessons, and then move on."
To hear more of Christoph Seckler's insights on the science (and art) of failing successfully, go to your favourite podcast app and listen to WAMM's latest episode.