The global Covid-19 pandemic is currently changing life as we know it. It is a change that – outside the circles of epidemiologists – few people anticipated and even fewer prepared for. Consequently, organizational leaders of all kinds are scrambling to adapt.
Given how unprecedented the current situation is in recent history, we have limited insight into how businesses should best respond to a pandemic that is truly global and that disrupts business as usual at the present scale. But we certainly know a lot about how to respond to organizational crises and radical changes.
And Covid-19 clearly represents both. It is undoubtedly a crisis not only on a human level, but it also challenges organizations to their core, for example by causing existential liquidity problems. At the same time, it is widely considered a radical change in that it is not only "one step further" in an established direction, but it might take businesses into a completely different direction.
What is important for strategists in such situations that are rife with change, is to develop an understanding of what is changing for good, and what isn't
Learning from another radical change: the emergence of the sharing economy
What is important for strategists in such situations that are rife with change, is to develop an understanding of what is changing for good, and what isn't. Unfortunately, this is not always easy.
Let's look at how hotel executives reacted to an earlier massive change, the emergence of the sharing economy. In a recent research project on discontinuous change, my co-authors and I investigated the early reaction of hotels to sharing-economy platforms like Airbnb. Hotel managers showed a variety of responses, but most amounted to largely wishing the change away or ignoring it. For instance, they experienced general confusion about why people would ever want to stay in other people's homes. Thus, they held on to the belief that Airbnb would necessarily always remain a niche business, not attractive to business travelers.

Hotel chains would have been much better off over the last couple of years if they had questioned their own practices and business models to adapt to the change
In addition, hotel managers felt they were treated utterly unfairly, and expected the government to fix things. They thought that companies like Airbnb were getting away with skirting or downright ignoring regulations that hotels had to adhere to. They saw Airbnb as a company that enabled hosts to avoid taxes, ignore fire codes, and violate a multitude of other regulations. Because hotel managers felt that this was such an obvious injustice, they were confident in waiting for the regulator to step in and regulate or even outlaw Airbnb's business. As we know now, of course, this largely did not happen.
In short, hotel managers viewed Airbnb as an only transient phenomenon. Arguably, hotel chains would have been much better off over the last couple of years if they had questioned their own practices and business models to adapt to the change. But only a minority of them did so, at least initially. For instance, some hotels decided to change their customer segmentation to better compete with Airbnb. Others began to change their product offering, e.g., by relying more on self-service or by adding lounge areas for people to socialize in, to face the competitive threat head-on. Most hotels, however, felt for a long time that their overall strategy needed little readjustment.
During the pandemic, it seemed like the tides might have turned for Airbnb. When the pandemic hit, the sharing economy juggernaut was one of the hardest-hit companies. Revenue declined by 72%. The firm laid off 1,800 employees, a quarter of the entire staff, in May 2020. Airbnb also cut marketing spend, and reduced bonuses for 2020. It halted all construction work for new offices. In July 2020, Airbnb CEO Brian Chesky explained that "we got more than a billion dollars of cancellations from guests." In a letter that accompanied their IPO (initial public offering) filing, Airbnb's co-founders admitted that some people asked, "Is this the end of Airbnb?"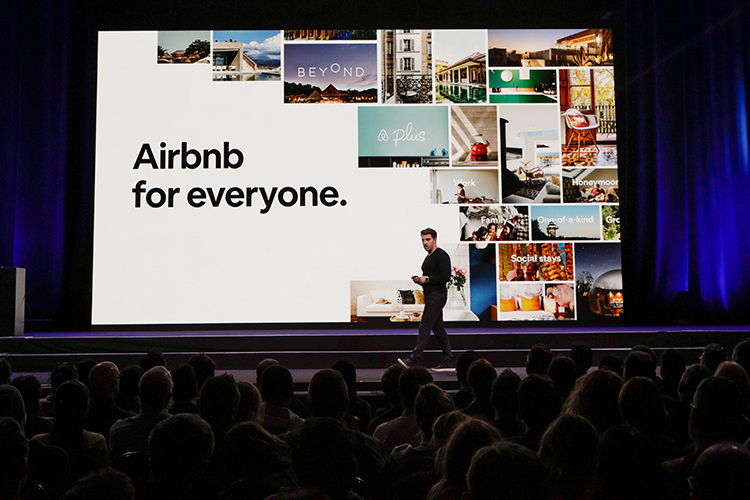 And in fact, during a pandemic, the guests that are still traveling might prefer a competently managed hotel to an Airbnb accommodation run by a private person. Hotels offer a standardized experience and are professionally operated. They might have an edge in convincing customers that they are following proper hygiene protocols and that it is safe to stay there. So, although the hotel industry is of course also dramatically affected, in this situation it might be tempting for hotel managers to think again that the threat from Airbnb was only temporary and that it might finally go away. But is Airbnb truly retreating into its niche and are hotels making a come-back?
While the pandemic might be a short-term impediment for Airbnb, it might very well not stop a long-term trend. Consider other possible radical consequences of Covid-19: Business travel might be permanently reduced and replaced by video conferences. This would hurt Airbnb – but it would hurt hotels as well. In fact, if demand is reduced or shifted between segments, Airbnb is likely in a better position to respond because of the breadth of its accommodation portfolio, which can flexibly adapt to demand. Hotels, of course, cannot do that quite as easily.

Airbnb is not going away anytime soon
As a matter of fact, the hotel market disrupter's response to the Covid-19 outbreak was swift and "groundbreaking since it reinvents its business model." Airbnb's IPO was delayed because of the pandemic, but ultimately filed in November 2020 and valued at $47 billion, making it the largest of the year. On the first day of trading, the share price doubled. The capital markets' vote is in. Airbnb is not going away anytime soon.
Lessons managers can learn from the hotel industry
In times of change, strategists thus need to distinguish the things that are changing fundamentally from those that are not. They constantly need to ask themselves the question: What is changing, and what isn't? Which changes are here to stay, and which are only temporary?
Of course, they may need to adjust their businesses to both kinds of changes. But they need to do so with different means. Whereas short-term change might require emergency action to prevent the business from going under in a crisis, for example by conserving cash, long-term change necessitates deeper, more systemic change. The former is hard, and the latter is even harder. But to get things right, managers first need to develop a sense for what is what.
So, think about what you need for immediate business continuity, and what true continuity can and must look like in the "new normal." Only then, begin to plan and implement the appropriate changes in your organization!
License and Republishing
The Choice articles may be republished in accordance with the Creative Commons Attribution-NoDerivatives 4.0 International Public License, and in accordance with our
Term of use
.
The Choice - Republishing rules
We publish under a Creative Commons license with the following characteristics Attribution/Sharealike.
You may not make any changes to the articles

published on our site, except for dates, locations (according to the news, if necessary), and your editorial policy. The content must be reproduced and represented by the licensee as published by The Choice, without any cuts, additions, insertions, reductions, alterations or any other modifications.If changes are planned in the text, they must be made in agreement with the author before publication.

Please make sure to cite the authors of the articles

, ideally at the beginning of your republication.

It is mandatory to cite The Choice

and include a link to its homepage or the URL of thearticle. Insertion of The Choice's logo is highly recommended.

The sale of our articles in a separate way, in their entirety or in extracts, is not allowed

, but you can publish them on pages including advertisements.

Please request permission before republishing any of the images or pictures contained in our articles.

Some of them are not available for republishing without authorization and payment. Please check the terms available in the image caption. However, it is possible to remove images or pictures used by The Choice or replace them with your own.

Systematic and/or complete republication

of the articles and content available on The Choice is prohibited.

Republishing The Choice articles on a site whose access is entirely available by payment or by subscription

is prohibited.

For websites where access to digital content is restricted by a paywall, republication of The Choice articles, in their entirety, must be on the open access portion of those sites.

The Choice reserves the right to enter into separate written agreements

for the republication of its articles, under the non-exclusive Creative Commons licenses and with the permission of the authors. Please contact The Choice if you are interested at contact@the-choice.org.
Individual cases
Extracts: It is recommended that after republishing the first few lines or a paragraph of an article, you indicate "The entire article is available on ESCP's media, The Choice" with a link to the article.
Citations: Citations of articles written by authors from The Choice should include a link to the URL of the authors' article.
Translations: Translations may be considered modifications under The Choice's Creative Commons license, therefore these are not permitted without the approval of the article's author.
Modifications: Modifications are not permitted under the Creative Commons license of The Choice. However, authors may be contacted for authorization, prior to any publication, where a modification is planned. Without express consent, The Choice is not bound by any changes made to its content when republished.
Authorized connections / copyright assignment forms: Their use is not necessary as long as the republishing rules of this article are respected.
Print: The Choice articles can be republished according to the rules mentioned above, without the need to include the view counter and links in a printed version.
If you choose this option, please send an image of the republished article to The Choice team so that the author can review it.
Podcasts and videos: Videos and podcasts whose copyrights belong to The Choice are also under a Creative Commons license. Therefore, the same republishing rules apply to them.