In France, for example, one in four employees will become caregivers at some point in their lives. It's a startling figure and one that businesses, in general, are unprepared for. So how will this impact the workplace in the years to come? We spoke to Caroline Mac Naughton, co-founder of Caring Company Project, to hear her thoughts on how businesses need to adjust to this growing phenomenon.
To begin, could you tell us how Caring Company Project came about?
Caring Company Project was founded in 2020 by Hélène Xuan, Miora Ranaivoarinosy and myself. Despite coming from different backgrounds – economics, innovation, legal, consulting and tech – we all shared the conviction that businesses were lacking adequate solutions to ensure a healthy work-life balance for employees. More specifically, we felt that they were failing to adapt to one of the most prescient challenges of our time: the prevalence of unpaid carers in the workplace.
This is a phenomenon that I'm familiar with on a personal level, as my brother and I both cared for my mother following her diagnosis with a neurodegenerative disease. The result was MyTeamily, a startup I founded in 2018 to help caregivers and employers understand stress through a cognitive approach and prevent burnout.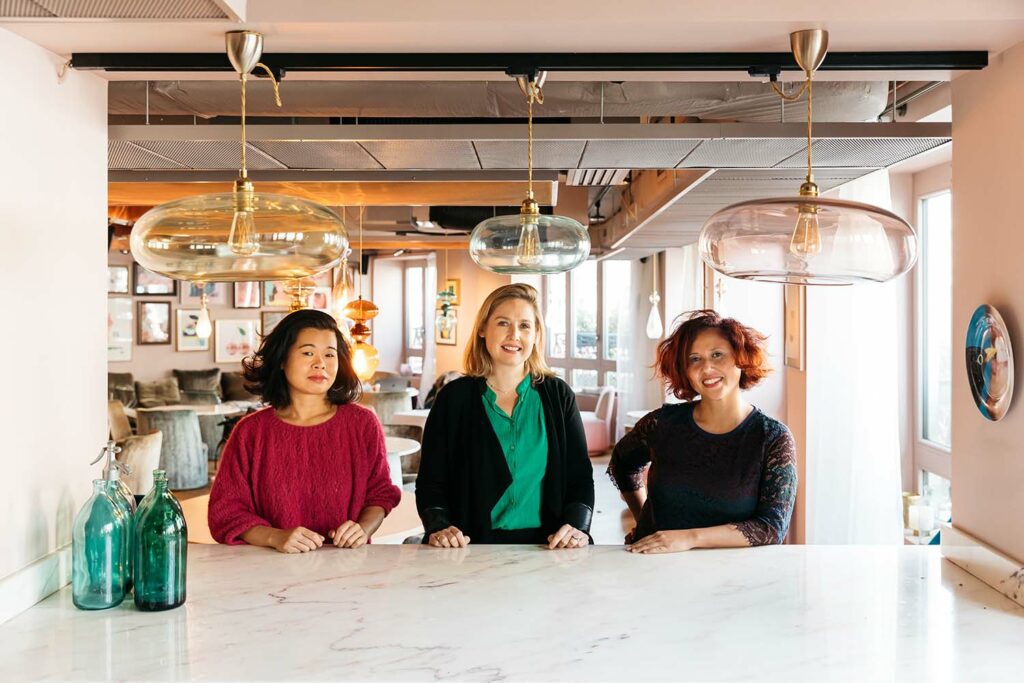 At the time, what was the biggest challenge that led to the creation of MyTeamily?
A lack of visibility. I noticed that I and many other caregivers struggled with being heard and supported on a practical level in the workplace, often for fear of making waves. Also, employees are often unaware that they're learning new skills and techniques as a result of their caregiving. We should be encouraging them to use these new skills effectively at work, instead of viewing them through a negative lens. Employees shouldn't have to choose between being a good worker and a good caregiver.
Do you feel that those challenges are more or less relevant in today's world, particularly in light of the pandemic?
Unfortunately, it's often still the case that employees feel they have to put their careers on the back burner when they become caregivers. During our workshops, we've spoken to a number of caregivers for whom the pandemic has changed things. For example, we all grumble about Zoom meetings, but surprisingly, this seems to have opened up the conversation in many cases. People are more likely to talk about their home life and work-life balance when they're working from their kitchen, with their family in the background. I also think that empathy for carers and their challenges is on the rise; the past year has seen lots of people's routines change drastically, so there's a "walk a mile in my shoes" effect that seems to have had a positive impact.
Of course, it's not all good news: many of the employees we spoke to reported feeling forgotten about or less supported with the rise of WFH (working from home), without mentioning the increased stress and practical challenges that come with restricted access to services. Statistics indicate that 21% of unpaid caregivers feel that their careers have been negatively affected by their caregiving responsibilities.
It's essential that businesses look at the numbers, look at the statistics, and make wise choices when it comes to investing in the future of their employees.
With this in mind, how can more companies work to overcome these challenges and become Caring Companies?
A Caring Company understands that its employees often have significant responsibilities outside of work. It commits to challenging the way career paths are designed to allow caregivers to meet both their caring responsibilities and their willingness to grow at work. On the ground, we often talk about 'inclusive performance'. This is an approach that is linked to empowering employees throughout their careers, rather than simply responding to a situation or event. We know that prior to the pandemic only one out of three caregivers would tell HR about their situation, so it's incumbent upon management to look beyond the surface and make sure that all employees know how to access resources and support, if and when they're needed.
I would urge companies to take a closer look at classic situations that many employees still experience – feeling unable to request time off, finding themselves on the sidelines when it comes to new projects or new clients, experiencing friction with their manager or colleagues – and put measures in place to anticipate these 'life moments' proactively, rather than attempting to deal with them as they arise. Interestingly, a Deloitte study recently found that even a 10% improvement in perceptions of inclusion increases work attendance by almost one day a year per employee, thus reducing the cost of absenteeism. It's essential that businesses look at the numbers, look at the statistics, and make wise choices when it comes to investing in the future of their employees. As an example, maternity leave is something we now take for granted: it's factored into recruitment and company budgets. I'd like to see the same for other 'life moments,' including – but not limited to – caregiving.
We know that women are more likely to be unpaid carers or caregivers, especially in caring for older family members. How should companies be adapting their solutions in light of this?
Women are indeed more likely to assume the role of caregiver, for cultural and societal reasons. Studies have shown that women are adversely affected by caring duties, but it is not exclusively a female issue. Unfortunately today, with the health crisis, companies need to be cautious as more women find themselves having to "opt-out". More men are affected and speak up about their role in care, but women continue to be more impacted. Our workshops are still largely composed of women, but it's great to see that men are stepping up and requesting support and advice. It's essential that they know that the tools are available to help them in the workplace.
We need to reconcile performance and work-life balance.
Have you come across any cultural constants or specificities in terms of caregiving, whether in France or worldwide?
I would say that the problems are more or less universal, but the way they're dealt with is not. The UK is doing an impressive job in encouraging discussion in the workplace, and things are also getting off the ground in the USA. I was particularly pleased to read about the CEO of Levi's offering up to eight weeks of paid 'family leave' to the company's employees, which is exciting – hopefully, others will follow suit. Caregiving can affect everyone, from the CEO to the interns.
Finally, what would you say to employees who are currently caring for a family member?
It's essential that businesses start preparing for the future in tangible ways. In 10 years, 25% of employees will be caregivers. Simply put, the majority of us will either care for someone or be cared for ourselves within our lifetime. At Caring Company Project, we want to highlight something that's rarely talked about: that mental overload strongly impacts us at work, it can incapacitate us temporarily and possibly lead to burnout, it can and does happen to everyone, and it can be prevented. Nobody deserves to have their career advancement be conditional on their private life.
It's time to stop feeling guilty and start a constructive dialogue, because issues surrounding caregiving will have an impact on all of us, both now and in the future.
---
Caroline Mac Naughton is the founder of MyTeamily, a startup that combines caregivers' expertise and neurosciences to help businesses and employees develop skills to handle cognitive overload. The company was incubated at ESCP Business School's Blue Factory in partnership with Malakoff Humanis.
In 2020, she co-founded Caring Company Project alongside Hélène Xuan and Miora Ranaivoarinosy to help businesses become Caring Companies. Being a "Caring Company" means recognizing life events where each employee is exposed to causes of fragility. Caring companies provide their employees with solutions that enable a protected career path, answering the ambitions and needs of its employees, in a flexible and stimulating environment.
Caring Company Project's latest initiative in partnership with OpinionWay, 'Le Laboratoire des Salariés-Aidants 2021', is a French, nation-wide study aimed at providing updated data on the level of awareness of employees, managers, and HR when it comes to the impacts of caring duties and the needs to be addressed to ensure long-term value creation and employee engagement.