Most of the creative industries have been disrupted by digitalisation – except for the art sector, which has stayed the same for years with its somewhat unwelcoming "gallery model". Not so long ago, this exclusive industry was mainly relying on a small number of art collectors, mostly over fourty-five years old, educated and wealthy. This audience was very comfortable traveling to art galleries around the globe. They had the means to purchase expensive art pieces and never missed an art fair.
When the pandemic hit, the traditional art industry occupied by small businesses and physical events struggled to adapt to the necessary digital change. Besides big art auction houses that were already selling online and a few online art marketplaces, most art sales and artwork discoveries were made offline. With the lockdown, everything had to shut down, and by ignoring the digital shift for years, the traditional art sector wasn't armed for this Tsunami.
Over the years, the art industry has become disconnected from its growing audience – Millennials and Gen Z. As a result, small and medium-sized art galleries are struggling like never before, and some of them are unfortunately forced to shut their doors.
Inspire me! The personalisation imperative 
Global physical art sales in 2020 shrank by 22% compared to the previous year, according to the Art Basel report. We can see this problem in different ways; the first one is to believe that there is too much art offered compared to the demand. Or we can choose to admit that the traditional art ecosystem is collapsing. In fact, there is a huge offer, but it is outdated and is failing to meet the demands of the new generation. Millennials and Gen Z's behaviors have evolved while the art industry has stagnated.
These audiences spend a lot of time online looking for interactive, entertaining and authentic experiences surrounding art. Unlike their predecessors, Millennials and Gen Z feel very comfortable discovering art on social media. Thanks to algorithms, they can interact with personalised content and feel inspired on demand. Instead of visiting museums or art galleries – which are places they are not very comfortable going to – they curate their own feeds on Instagram and TikTok, sharing content that is relevant to their needs. They are not afraid to express their voices online! Forget about Picasso, Dali or Van Gogh – idolised for years, they are being cancelled by Gen Z on TikTok for their misogyny and controversial political ideas. Millennials started the movement, and Gen Z are following – together they are fighting for a more inclusive, diverse and equal world.
It's undeniable that the traditional art market is the opposite of what Millennials and Gen Z are seeking. It is run by the elite buying art from well-performing "star" artists, who are imitating each other's behaviours. As a result, we always see the same names in art galleries, fairs, museums and magazines.
Millennials and Gen Z demand to see and buy art that reflects their individualities and represents their reality. The art sector needs to become more diverse and inclusive. 
The rise of art influencers and the importance of phygital experiences
Millennials and Gen Z are generations that grew up with the internet, and they are also known for disrupting long-lasting and traditional industries. While many art professionals remain skeptical about the digitalisation of the art world, both Generation Y and Z are breaking the codes of this industry by embracing the digital shift. The pandemic has changed the art world forever, and instead of waiting for things to go back to normal, art professionals and artists should embrace this opportunity to create a more sustainable industry.
Digital tools are a great way to bring art to people's lives, especially to the ones who are not necessarily interested in the topic. By not adapting to people's change in behavior, the art industry created a huge gap between art and people. But the first lockdown accelerated the democratization of the art sector through digitalisation. In France, there is a growing number of young art influencers creating entertaining content related to the contemporary art scene and to art history in general.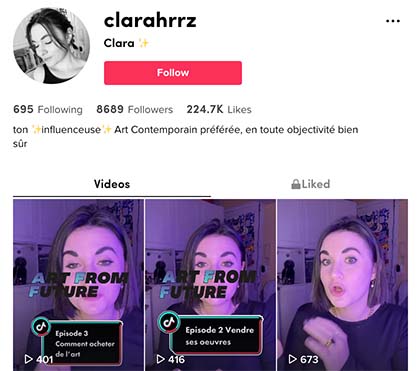 They both communicate a serious message surrounding art but in a fun way, one that speaks to everyone. Influencers have the power to create a strong online community and get instant data. I asked Clara Herraiz to share the feedback she received from her audience, and I was amazed by the number of messages she received from non-art insiders! It highlights the importance of digitally bringing art to people's lives and making art discovery more welcoming to a new audience.
Taking a "social first" approach
In order to attract a new audience to the art sector, we should ask ourselves: where is my audience? Once we understand that our target uses social media as a tool to discover and buy experiences or products, then we should ask ourselves how are we going to spark their interest? Museums like the Uffizi gallery, for example, started making fun videos of classical art on TikTok during the first lockdown; as a result, they doubled the number of young visitors to the gallery during the summer of 2020. 
Should we ditch complicated museum labels and replace them with Instagram captions or TikTok videos to be more inclusive? Most likely, yes.
It is our duty as art professionals to create a more welcoming art world that speaks to everyone and reflects our society. It's also important that art schools teach artists that their art is just half of the story. Artists need to show more of themselves to the world and explain the story behind their art in order to connect with Millennials and Gen Z. Most importantly, they need to speak the language of future generations. 
Embrace change, you must unlearn what you've learnt 
When I decided to create my startup, I wanted to reinvent the model by promoting young artists first and making their art relevant to a new audience. The idea was to create something new that would benefit both young artists and new buyers. On one hand, young artists are struggling to make a living from their art because they are being ignored by the art market, and on the other, Generation Y and Z don't have easy access to this exclusive industry. This has given an opportunity to my solution.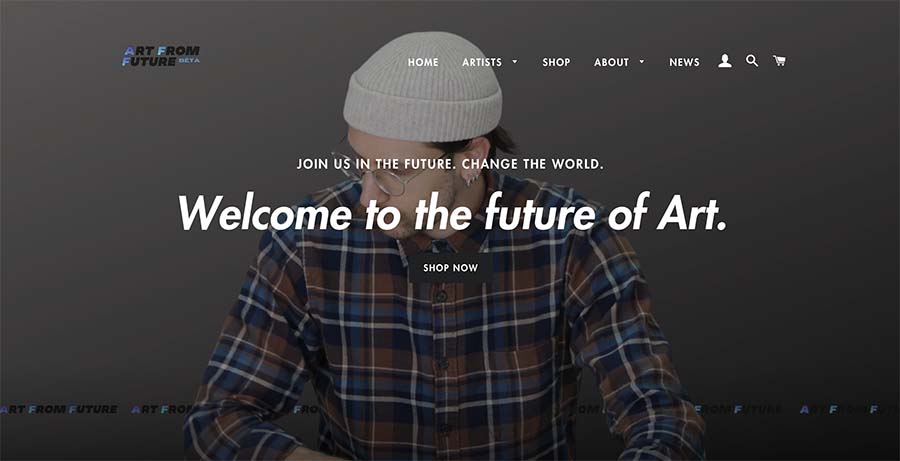 Art From Future is the first growth platform helping up-and-coming visual artists around the world develop their careers by connecting them with a newly engaged audience online. Not only do we provide our artists with an e-commerce platform to sell their art, but we also offer custom services to create their personal brands online. At the moment, our services include social media development strategies and content creation services. We make art discovery extremely cool by using social media and partnering with amazing influencers. Art From Future also answers to the increasing demand for price transparency by showing off the artwork prices online and delivering a digital certificate of authenticity registered via blockchain technology.
All industries should be ready to adapt to new trends and to the never-ending change in demand. It's important to identify future consumers as quickly as possible, understand their behaviours, and include them in the offer, because today's buyers are different from tomorrow's. The art sector wanted to be exclusive for more than 50 years and today it's paying the price. If you don't innovate in your field, an outsider will.