On the second episode of Her Voice, we had the honour of receiving Diana Biggs, the CEO of Valour. For those who are not fintech or crypto aficionados, Valour is a platform for exchange-traded financial products (ETPs) with the mission to provide the most accessible way to invest in digital assets. A crypto fan since 2013 and formerly the global head of innovation, private banking, at HSBC, Diana Biggs is an expert when it comes to innovation in finance. Together, we discussed the overall evolution of the "crypto craze", the surging popularity of NFTs (aka Non-Fungible Tokens), and also the challenges facing women in this industry.
On the rise (and not fall) of the blockchain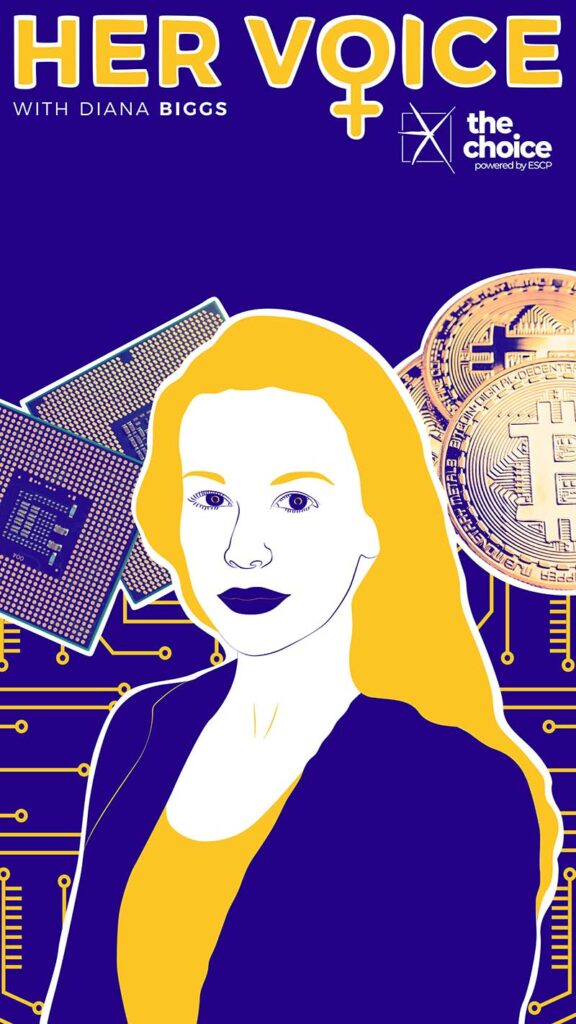 Diana Biggs is a long-time pioneer when it comes to cryptocurrencies and the blockchain. She started using computers at the very beginning of the internet and has witnessed the blockchain's early days. Her first interaction with Bitcoin and crypto occurred while she was working in international development, and they were looking at the issues with overseas money transactions.
When the blockchain first came up, I thought this was something interesting and that it could be really important. The overall energy reminded me of those early days of the internet.
"Bitcoin's main innovation is contained in the nature of the used protocol, which made it impossible to double-spend transactions. The fact that there's no single person or entity in any way controlling Bitcoin also means that you can't shut it down," says Diana Biggs when explaining the reasons for the BTC's success and longevity.
Why you might consider investing in NFTs soon…
The NFT craze is a phenomenon that is shaking the traditional art and music sector, with the markets being accessible to anyone ready to spend some of that crypto money. For example, Jack Dorsey, the founder of Twitter, sold his first tweet ever as an NFT for over $2.9 million. Sounds crazy?
Well, maybe not that much, if we believe in the uniqueness of such tokens: "NFTs are non-fungible tokens: they are not interchangeable. The most obvious and immediate use case for that type of token has been artwork, collectable items, things to which you would want to add value, by certifying their uniqueness. We first saw that a few years ago with the CryptoKitties craze. At the time, they were the first things of this type, but NFTs kept coming up from there," says Diana Biggs.
…even if you're a woman
Our fintech expert, however, would like to see more women getting comfortable with finance and such investments: "Wealth managers are missing out on trillions of dollars because of the way women are treated as investors. Ignoring women as customers is not serving their cause."
Do you want to know more? Listen to the podcast for our full conversation with Diana Biggs, and hear what she has to say about Bitcoin's energy impact and Elon Musk's tweeting frenzy.