Keep learning, whatever your age or previous experience, and however rich that experience may be. That's the view of Chadi Saba, a researcher whose CV includes some of the world's leading pharmaceutical laboratories. At 46, he has just received an Executive MBA (EMBA) Global Track from ESCP Business School and ESA Beirut, and is now applying those skills as a Squad Lead for the Immunotherapy cancer treatment department of Laboratoire Roche in the Middle East.
For some, their vocation in life is the result of their childhood experiences, which sometimes include the most traumatic kind. What profoundly marked Chadi Saba, and led to his interest in the medical world, was his personal experience as an 8-year-old in Lebanon.
"I witnessed the civil war in my country," he recalls. "My younger sister and I were trapped in a school with a few other pupils for 100 days, living in makeshift shelters during the siege of my home city, far from our parents. Sadly, we lost some of our friends during the bombardments, without being able to give them the care they needed. That period is seared into my subconscious and was probably what led me later to study medicine."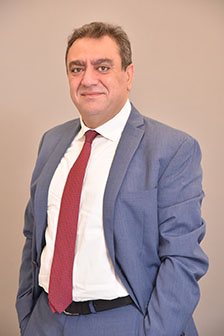 Looking back at his first internship in the oncology department of Beirut's Hôtel-Dieu hospital, he remembers having been "particularly moved by the attitude of cancer patients who, facing death, were both vulnerable and self-possessed at the same time…"
These experiences made me want to provide a personal touch, either as a clinician in my specialty at the Léon-Bérard Medical Center in Lyon, or as a researcher, having joined the pharmaceutical industry to help with cancer research and to bring new therapeutic arms to the fight.
Failure: A source of learning and personal development
Novartis, Servier and now Roche… Chadi Saba has worked in many countries (France, Switzerland, Belgium and the UK) for pharmaceutical laboratories that are leaders in cancer treatment innovation. Various experiences during his career have taught him the value of perseverance and humility.
"We had to face up to a few failures, which later proved decisive in our understanding of cancer," he explains. "Failure proved to be a real driver of both learning and personal development."
For nearly two years, he has led a team of 20 people in Beirut, as the Squad Lead in the Middle East for his company's immunotherapy department for cancer treatment. His role is to provide an overall vision for the Roche product portfolio and to draw up a strategy for delivering it that involves co-creating solutions with various stakeholders, such as the medical community and patient groups.
Our aim is to provide two or three times more innovation, and thereby improve the daily lives of patients, while at the same time reducing the financial impact of treatment.
In January 2018, he decided to study for the Executive MBA (EMBA) Global Track at ESCP and ESA Beirut. The modules on strategy, economics and finance, coupled with the experience of his daily work, permitted him to bring forward a number of changes in his organization and at the level of daily work by enabling the team to have a strategic view and contribute to an ever-transforming environment. He also decided to take a leadership programme, along with the courses directly relevant to his work for Roche (compliance and scenario planning). Meanwhile, regional seminars taught him about the business world in countries such as Brazil. This combination of core courses for acquiring general knowledge about management, plus specific leadership skills, accurately reflected the needs of a leader in a multinational company.
Understanding exactly how the business world works
"Despite having spent 14 years in the corporate world, I've always considered myself a novice; someone with a slightly naive view of the areas covered by the course," he explains.
"My return to Lebanon opened up a career development opportunity in business. I'm curious and passionate about what I do, and I wanted to fully understand the workings of the business world, which led to my interest in the Executive MBA. The learnings I got were of big benefit to me in terms of giving me the academic background and the necessary tools to contribute to the change in my environment."
Adapting and innovating are the key drivers of the pharmaceutical industry, with the frantic race to develop a Covid-19 vaccine in recent months being the obvious proof. Those two activities are also a perfect description of the professional development so far of Chadi Saba, who likes to quote François de la Rochefoucauld when asked to sum up his career:
Even though people flatter themselves about their great achievements, they are often not due to some grand design, but are instead the result of chance.
Just add Chadi Saba's personal values and beliefs to that idea of chance, and the result is what motivates him every day. And the aim is always the same – the well-being of patients.
---
Feature photo credit: Bozzybozza – stock.adobe.com.