Before co-founding Business Club Africa (BCA), a community of senior-level executives doing business across Africa, Nadia Mrabit, an alumna of ESCP's Master in Management, acquired over 17 years of experience in international project management and consulting. Her radiant and empathetic personality makes her a one-of-a-kind leader.
For the first episode of Her Voice Season Two, our host had the chance to discuss with Mrabit the state of business in Africa and gain some precious insight on the qualities that make a resourceful leader.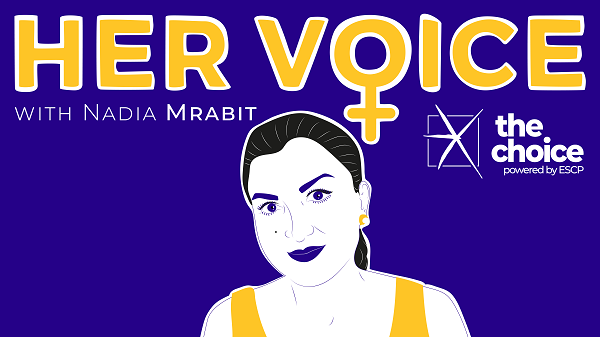 Business consulting, with a human touch
With more than 17 years of experience in project management and consulting, Mrabit has a pretty thorough understanding of a variety of industries, businesses and organisations. Having worked in the private sector as well as the development world, and being African and European, her vision and expertise extend to different cultures as well.
"Engaging with people through consulting, for a curious and extroverted person like me, allowed me to meet and connect with a variety of people from different backgrounds and get the chance to understand them, the challenges they're facing at work and also often even beyond work," says Mrabit.
But what truly seems to set her apart is her zest for life and her willingness to work as a team player: "Clients often complimented me on the fact that I made it a point of honour to truly become part of their teams. As a consultant, it is very important to listen carefully to your clients and to people in general. Oftentimes, they will tell you about a problem, and you will find out the reality of it is a bit different," recalls Mrabit about her years working at Kearney.
In Africa, it's relatively easy to meet business people. You can talk to pretty much everyone from the receptionist of a company to the CEO.
A club for business leaders to meet the right people in Africa
Mrabit is a people person. And as such, she truly believes meeting and connecting with the right people makes a world of difference when it comes to life, and to business: "In Africa, it's relatively easy to meet business people. You can talk to pretty much everyone from the receptionist of a company to the CEO. In Africa, it's very important to connect with people."
Starting from this key learning, Mrabit co-founded Business Club Africa, an exclusive club for executives doing business on the continent that allows businessmen and women to connect with the right people and extend their professional and social networks. "Business Club Africa is more than a network. It's a community of like-minded people who are already doing or willing to do business across Africa in all sectors or industries. But more than that, people who are engaged and committed to unleashing Africa's huge potential," explains Nadia Mrabit.
If you'd like to hear more of Nadia Mrabit's captivating anecdotes and pieces of advice on how to successfully connect with people, give Her Voice Season Two Episode One a listen.