On Her Voice's fourth episode, we had the chance to speak with Anisha Goel, ESCP alumna and co-founder of Kaze Living, an Indian start-up that intends to help change the food game in India. When Anisha was confronted with the difficulty of finding fresh local produce in her hometown, she decided to create the solution. Building off of her family's history and her experience in consulting as well as India's tech startup scene, Anisha and her co-founders are working to uncover new ways of growing healthy, sustainable food and educating consumers on the great products coming from local farmers. To Anisha Goel, a farm-to-fork business model could be part of the solution.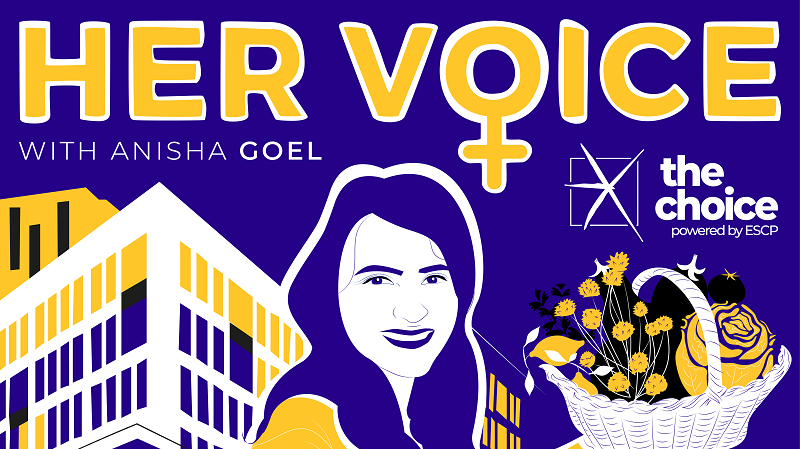 Growing quality food thanks to hydroponics: the future of farming?
Thinking about new ways to produce food has become crucial as countries around the world seek to feed growing populations while limiting their environmental impact. Fortunately, solutions exist and are starting to pop up around the globe, encouraging hope regarding healthier, accessible and greener farming for all.
Hydroponics may just be one of these solutions. "Hydroponics is growing crops in water instead of soil. Some people see it as the holy grail for a sustainable farming future that would not depend on soil fertility. Hydroponics can be set up under any climate: it's just pure water enriched with all the nutrients the plant needs. Most importantly: no soil means no pest nor bugs you'd need to kill, so no pesticides," explains our guest, Anisha Goel. By launching Kaze Living in India, she wants to be part of the solution. "I grew up in a family of organic farmers in the northern part of India, so from a very early age I was aware of the consequences pesticides and other chemicals can have on one's health. Then I thought: we don't have any place to reliably and safely buy greens in the country."
Fewer middlemen for fresher produce and happier farmers
With Kaze Living, Anisha Goel works hand-in-hand with local farmers to provide customers with fresh, organic produce. "In India, over 25% of fresh produce gets wasted. Farm-to-fork duration can't be over 60 hours. Past that time, we are faced with significant nutritional loss and perishability. What Covid did is exaggerate the issue: mainly because of lockdown and additional checkpoints for road travels when transporting food." Hence, reducing the number of middlemen between the farmer and the customer's plate, reduces travel times, and waste.
Plus, when it comes to farming in India, farmers' conditions can be very precarious. "The Indian agri-supply chain was fragile to begin with, before Covid-19. There tend to be a lot of middlemen and actual farmers' margins are simply squeezed out by those further up the supply chain. Most of them don't know how to differentiate their products and that puts additional pressure on their shoulders." Better-remunerated farmers, healthier food, and happy customers? That's Kaze's mission.
Bringing the business to life
In building Kaze Living, Anisha quickly realised that her team was her greatest asset. Searching for team members who had complementary skills and were truly motivated was top priority. "If you don't enjoy doing this, sooner or later, it's not going to work out. So my role as a founder, eventually, was just to keep the entire team motivated and to make sure we give them the right environment to let them do what they do best and work well together."
Now when it comes to keeping herself motivated while starting a business, Anisha found comfort in the fact that "if you ask, help will always come". That's why she advises fellow entrepreneurs to be active on social media, especially LinkedIn, and to speak to people, other founders, for example, because eventually you will realise that "Oh, you know what? Maybe some people do want to listen to what I have to say, and then you just talk some more".
Feed your curiosity by listening to the whole episode to learn more about soilless farming and Anisha Goel's advice on finding your voice!