If you are looking for the recipe for successful team building, then, this episode is for you. You get a boost just by hearing Harout Semerjian, an inspiring leader who deeply believes that leadership is a privilege.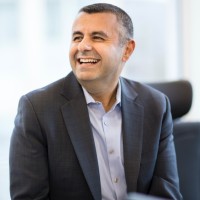 Even if we are standing, the world is turning and changing.
When asked about the formula to build high performing teams across geographies, his answer was: Look for universal values, find the commonalities, not the differences, and more importantly pause and remind yourself why you do what you do!
What's your personal leadership philosophy?
His leadership philosophy is to stay grounded because the more you grow, the fewer people will challenge you. No matter where you are in your leadership journey, always look for mentors, or what he likes to call them "truth-tellers".
Ending the episode with a word of wisdom to all healthcare leaders out there:
Now that the pandemic is almost behind us, Harout talks about disparities and inequities in healthcare. Unfortunately, access to quality healthcare is still largely dependent on the zip code or the part of the world we live in, and it's the responsibility of today's leaders to change this paradigm. Simply put, access to quality healthcare should be a standing item on healthcare leaders' agendas.