It might be 2021, but it appears that we're still asking the tech industry the same question: where are the women? Though they make up close to 52% of the labour market, as of 2016, women represented only 24% of employees in the technology sector. For women, positions in tech are essential for their professional development. In the United States, for example, STEM occupations (science, technology, engineering and mathematics) are expected to experience the fastest employment growth and will play a major role in the jobs of the future. For businesses, more women means more diverse perspectives to solve complex problems, improving innovation and the bottom line.
These numbers look similar in other technical industries, particularly at the leadership level. In the design sector, for example, 61% of designers are women, but only 11% of women hold leadership positions in this field, according to a 2019 census by AIGA and Google. So what about the 11% of women who've made it?
The Choice spoke with Olga Voskoboinikova, Product Design Team Lead at Flaconi and alumna of ESCP's Women in Leadership programme, about how she beat the odds and how we can help other women do the same.
"A good leader needs to be authentic and true to oneself"
In 2019, Olga was working as a UX designer leading product design in a team of product owners and engineers. Although she had been at the company for over a year and had several years of design experience under her belt, her leadership opportunities were limited. "Often I would have another product designer or two whom I could mentor, but I still felt that I hit a glass ceiling."
"Despite having hired, together with the VP of Product Management and the Strategic Design Team Lead, most of my colleagues during the previous year as well as having the tenure and responsibilities of a lead designer, I held an inferior title."
To better her chances of breaking through the glass between her and the leadership role she both deserved and wanted, Olga decided to take the Women in Leadership programme at ESCP's Berlin campus as well as additional lessons with a voice trainer and a personal transformation coach. Through the programme, Olga came to realise that how she saw herself was an important component in achieving her professional objectives. "I became conscious that my extremely low confidence and self-esteem were undermining my career progress."
More importantly, I learned that a good leader needs to be authentic and true to oneself to convey gravitas and be respected by others.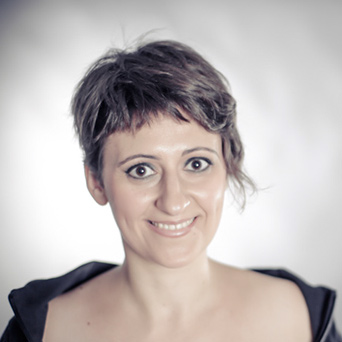 Immediately following the programme, Olga asked for her job title to accurately reflect her responsibilities in the team. While waiting for the result, she also made a few changes herself:
"I learned about my personal leadership style and understood that I can be a leader without having an extrovert personality and that it's okay to be a listener and observer rather than being the one who talks first, and more often. This now seems obvious and even silly when looking back, but it was a true eye-opener at that time."
Four months later, she got that title change and her career continued to progress, even faster than she had expected: "Our company was restructured in early 2020 so I ended up reporting to the Head of Innovation, while leading the Design System team, managing all the work and dozens of stakeholders. During the same period, I was also headhunted for my next career step as a Product Design Team Lead in another organisation, where I now lead six designers and a UX researcher."
Today, Olga describes herself as a "diversity & inclusion advocate and empathetic leader who aims high for the customer experience and professional development" of her team. "As a team lead, I work closely with product and engineering leads, as well as people in other departments, such as brand and communications, in prioritising feature development and establishing processes or systems that contribute to an enhanced customer experience and lead to more revenue."
While Olga's technical expertise gave her credibility, understanding her own leadership style and building confidence made her successful.
And he said, "Where I come from, it's inappropriate for a woman to order wine in a restaurant"
The journey to becoming the woman and leader she is today has not been without its obstacles and confrontations with gender bias. "About three years ago, I had a business dinner with a group of people from another company at a large party table. Later that evening, we were still sitting and happily chatting, but all bottles were empty and I noticed that some glasses were too. I pointed to an empty bottle in front of me asking for one more to the waiter passing by. What happened next nearly made me fall out of my chair. The man sitting to my right leaned in towards me, put his hand in front of his mouth, and said: 'Where I come from, it's inappropriate for a woman to order wine in a restaurant.' I wanted to answer that where I come from, it's inappropriate to be gender-biased and that it will be difficult to establish a professional relationship this way, but I just smiled at him in a compassionate way." Looking back on this uncomfortable experience, Olga says with the awareness that she has today she would be more critical and challenge the perception.
This exchange is a perfect example of how the same actions by a woman versus a man can be perceived differently, often as aggressive, hostile or unprofessional. "I am extremely direct in my communication and this is often seen as aggressive, while the same style coming from men is usually perceived as assertive. I've also been told I'm overreacting when raising red flags to management, and called overprotective when insisting for competitive salaries for my team." Would a man be told the same?
Aware of the biased perceptions that she faces, Olga has consciously worked to soften her words in order to be listened to and respected by her peers. Though one could argue that she shouldn't have to, the ugly truth remains. Her experiences over the years have helped her to hone her leadership and communication skills: "I worked for over four years as a UI Design programme mentor at CareerFoundry. This experience was crucial to becoming a leader. There I learned how to give structured feedback, and developed my empathy and communication skills."
In addition to years of leading projects and people, it was an Executive MBA program with Quantic that helped Olga to "finally understand and bridge the gap between my teams' work and the layers above in an organisation."
"It's as much about cultural intelligence, as it is to be curious of others' points of view. Diversity and inclusion are at the core of it, and my own mix of russian and portuguese backgrounds and education, as well as the experience of living and working abroad, play a central role."
"It will be hard to gain a competitive advantage when only men are making the business decisions"
Olga is not the only one to have realised that diversity and inclusion are essential to the success of leaders and businesses. A 2015 report from McKinsey estimated that increasing gender equality in the workplace could add over $12 trillion to global growth.
"In three of the companies I've worked at so far, two-thirds of the customers were women. It will be hard to gain a competitive advantage when mostly men are making the business decisions. This leads to a homogeneity of opinions and groupthink. Moreover, it sets a precedent for all employees and potential future hires that apply to open job positions. If women are still underrepresented, what are the chances for us to be promoted into a leadership position later in our careers? I personally believe that many talents are lost this way, harming companies at scale."
To women in leadership roles who want to help break the glass ceiling for other women, Olga says "start by becoming a role model".
"One can only accomplish what they see possible by setting an example. Become aware of your own biases – we all have them, including myself – and empower all the underrepresented groups by inviting and encouraging them to voice their opinion. Help others to reflect on their biases by educating about the benefits of diversity and opening their eyes to other possibilities than the ones they know."
And for the women looking to take on leadership roles, "find mentors and role models that you can look up to." Follow them on social media to see what they have to say and learn from their experiences. And invest early in your own career. In addition to technical skills, work on your communication and leadership traits.
"Surround yourself with inspiring people that believe in the same values, and collaborate with them to make our tech bubble a more balanced and equitable community."
License and Republishing
The Choice articles may be republished in accordance with the Creative Commons Attribution-NoDerivatives 4.0 International Public License, and in accordance with our
Term of use
.
The Choice - Republishing rules
We publish under a Creative Commons license with the following characteristics Attribution/Sharealike.
You may not make any changes to the articles

published on our site, except for dates, locations (according to the news, if necessary), and your editorial policy. The content must be reproduced and represented by the licensee as published by The Choice, without any cuts, additions, insertions, reductions, alterations or any other modifications.If changes are planned in the text, they must be made in agreement with the author before publication.

Please make sure to cite the authors of the articles

, ideally at the beginning of your republication.

It is mandatory to cite The Choice

and include a link to its homepage or the URL of thearticle. Insertion of The Choice's logo is highly recommended.

The sale of our articles in a separate way, in their entirety or in extracts, is not allowed

, but you can publish them on pages including advertisements.

Please request permission before republishing any of the images or pictures contained in our articles.

Some of them are not available for republishing without authorization and payment. Please check the terms available in the image caption. However, it is possible to remove images or pictures used by The Choice or replace them with your own.

Systematic and/or complete republication

of the articles and content available on The Choice is prohibited.

Republishing The Choice articles on a site whose access is entirely available by payment or by subscription

is prohibited.

For websites where access to digital content is restricted by a paywall, republication of The Choice articles, in their entirety, must be on the open access portion of those sites.

The Choice reserves the right to enter into separate written agreements

for the republication of its articles, under the non-exclusive Creative Commons licenses and with the permission of the authors. Please contact The Choice if you are interested at contact@the-choice.org.
Individual cases
Extracts: It is recommended that after republishing the first few lines or a paragraph of an article, you indicate "The entire article is available on ESCP's media, The Choice" with a link to the article.
Citations: Citations of articles written by authors from The Choice should include a link to the URL of the authors' article.
Translations: Translations may be considered modifications under The Choice's Creative Commons license, therefore these are not permitted without the approval of the article's author.
Modifications: Modifications are not permitted under the Creative Commons license of The Choice. However, authors may be contacted for authorization, prior to any publication, where a modification is planned. Without express consent, The Choice is not bound by any changes made to its content when republished.
Authorized connections / copyright assignment forms: Their use is not necessary as long as the republishing rules of this article are respected.
Print: The Choice articles can be republished according to the rules mentioned above, without the need to include the view counter and links in a printed version.
If you choose this option, please send an image of the republished article to The Choice team so that the author can review it.
Podcasts and videos: Videos and podcasts whose copyrights belong to The Choice are also under a Creative Commons license. Therefore, the same republishing rules apply to them.