Frédéric Plais is the co-founder and CEO of platform.sh, a start-up company providing a platform for hosting web applications in the Cloud. Created in 2014, almost 100% of its employees work from home. From his own home-office in San Francisco, he explains the reasons behind this avant-garde choice, which many other companies are now rushing to copy as a result of the Covid-19 crisis.
What exactly is platform.sh?
We're a cloud platform for managing websites designed with Open Source technology such as Drupal, WordPress and Magento. We handle the hosting and our highly innovative platform makes it easy to deploy updates, add new components, etc. We host several thousand customer sites, including Nestlé and Johnson & Johnson.
How many employees do you have, and in how many countries?
We have a staff of 205 people in 33 countries. Like me, nearly 95% of them work from home. We have kept a small office in Paris where, before Covid, 10 to 15 people would be working.
Why did you decide to go nearly 100% homeworking?
To answer that, we need to go back a few years. When we started the business (with co-founders Damien Tournoud and Ori Pekelman), we struggled to hire people. We launched a product that had a lot of potential, but we were always looking for developers with the same profiles that big names like Google and Criteo were also searching for. At the time, we had three offices – in Paris, London and San Francisco – and each one was facing the same problem: 'How do you attract talented people?' So, we decided to stop focusing on geographical criteria and started to look beyond the traditional tech hubs. If our aim was to serve customers around the world, why shouldn't we recruit people from around the world?
Today, hiring is no longer a problem, and we have employees in Europe, the United States, Latin America, Australia, India… We succeeded in creating an employer brand strategy that particularly focused on homeworking. And in the last three months, we have received 6,000 CVs for 30 vacancies!
Have you ever regretted this choice?
No, because today it's an obvious one to make and it's a very real sign of the trust we have in our employees. It's a relationship based on treating each other as adults and having trust and responsibility. This creates a climate where people can do their best. In the beginning, we felt like we were the outliers. Today, everyone is doing it, which is the real proof of a business model that many people had their doubts about. Tomorrow's winners will be companies that reassess the way they do things – and who then include homeworking as part of the business.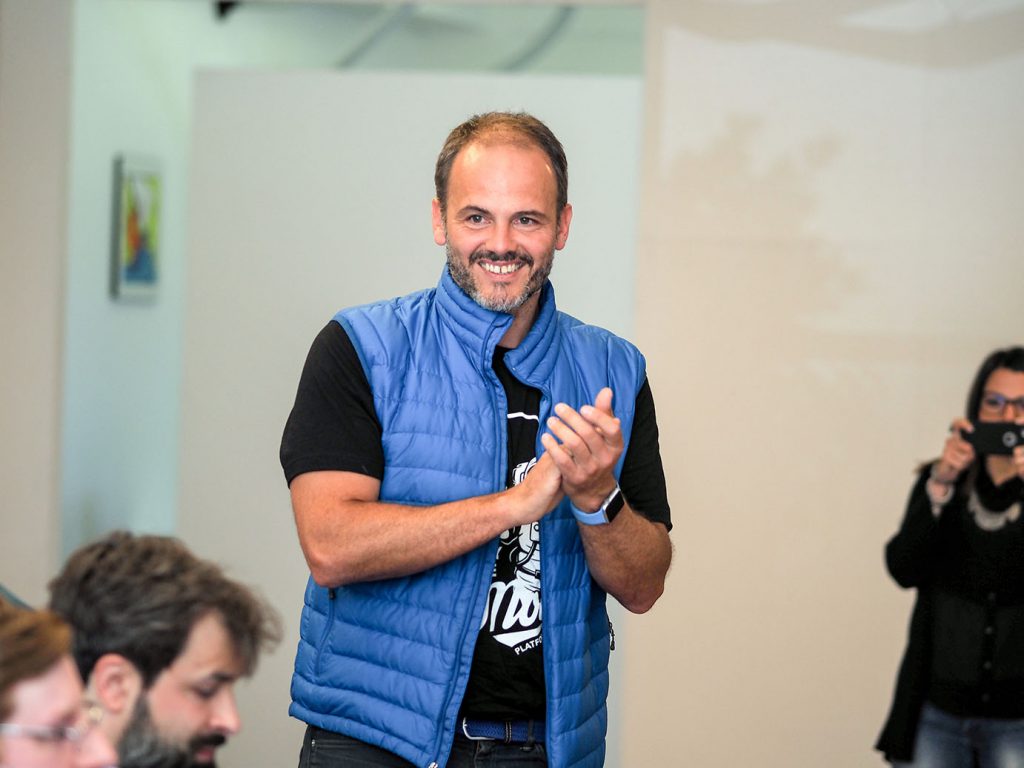 Homeworking means having a company that creates the right environment for its employees to be effective in their work – and to be happy
What are the limits of homeworking?
Homeworking is ideal for staff who have some experience and who want to leave the big cities or start a family. Full remote working is very popular with people aged over 30. For young people coming out of university, it's important for them to have mentoring and to see how older people behave on a daily basis – so they can learn from them and understand the world of work. They don't aspire to work remotely. So, the challenge for us is how to bring them on board when they leave school.
What are the keys to success in managing people remotely?
It's knowing how to communicate well and using the right tools. In my view, to manage remotely, you need to over-communicate – but to do it in the right way. Don't send loads of emails, because your conversations just become disjointed.
Use a chat room to talk to employees, so that you can follow the thread of the discussion. Limit video calls to the bare essential, because they lower people's productivity. Make chat the interface between the employee and the company. You have to find the right balance so that it's a positive, well-meaning communication channel that helps people to collaborate with one another. At platform.sh, we have published guidelines on the best ways to use it. And you also need to be aware of the atmosphere that's created on the chat.
What are the prerequisites for working from home successfully?
Being sure that employees have everything they need to develop in a calm, comfortable environment that is good to work in. At platform.sh, we provide them with their IT equipment, headset and internet connection. We have employees around the world so every decision has to be written down. We have also devised playbooks, which act as reference guides to the way the company works. We expect employees to be flexible about their working hours, but if they need to take their child to the dentist in the middle of the day, it's not a problem. They just have to be there for their team meetings. We also encourage them to go offline because the big risk with homeworking is being permanently online. Homeworking means having a company that creates the right environment for its employees to be effective in their work – and to be happy.
We expect employees to be flexible about their working hours, but if they need to take their child to the dentist in the middle of the day, it's not a problem.
Today, could you go back to working in an office every day?
Speaking personally, I have to admit that I prefer working in an office, where I see people every day. I miss the daily human contact. But for our company, I think it would not be smart to stop working from home. After all, the nature of our business lends itself to it, although that's not the case for every company. We have hired more than 50 people since the start of the year, and I've only ever seen them on a video link. There's no substitute for physical contact, but you can certainly get to know people by meeting them digitally.
---
Feature photo credit: Girts – stock.adobe.com.
License and Republishing
The Choice articles may be republished in accordance with the Creative Commons Attribution-NoDerivatives 4.0 International Public License, and in accordance with our
Term of use
.
The Choice - Republishing rules
We publish under a Creative Commons license with the following characteristics Attribution/Sharealike.
You may not make any changes to the articles

published on our site, except for dates, locations (according to the news, if necessary), and your editorial policy. The content must be reproduced and represented by the licensee as published by The Choice, without any cuts, additions, insertions, reductions, alterations or any other modifications.If changes are planned in the text, they must be made in agreement with the author before publication.

Please make sure to cite the authors of the articles

, ideally at the beginning of your republication.

It is mandatory to cite The Choice

and include a link to its homepage or the URL of thearticle. Insertion of The Choice's logo is highly recommended.

The sale of our articles in a separate way, in their entirety or in extracts, is not allowed

, but you can publish them on pages including advertisements.

Please request permission before republishing any of the images or pictures contained in our articles.

Some of them are not available for republishing without authorization and payment. Please check the terms available in the image caption. However, it is possible to remove images or pictures used by The Choice or replace them with your own.

Systematic and/or complete republication

of the articles and content available on The Choice is prohibited.

Republishing The Choice articles on a site whose access is entirely available by payment or by subscription

is prohibited.

For websites where access to digital content is restricted by a paywall, republication of The Choice articles, in their entirety, must be on the open access portion of those sites.

The Choice reserves the right to enter into separate written agreements

for the republication of its articles, under the non-exclusive Creative Commons licenses and with the permission of the authors. Please contact The Choice if you are interested at contact@the-choice.org.
Individual cases
Extracts: It is recommended that after republishing the first few lines or a paragraph of an article, you indicate "The entire article is available on ESCP's media, The Choice" with a link to the article.
Citations: Citations of articles written by authors from The Choice should include a link to the URL of the authors' article.
Translations: Translations may be considered modifications under The Choice's Creative Commons license, therefore these are not permitted without the approval of the article's author.
Modifications: Modifications are not permitted under the Creative Commons license of The Choice. However, authors may be contacted for authorization, prior to any publication, where a modification is planned. Without express consent, The Choice is not bound by any changes made to its content when republished.
Authorized connections / copyright assignment forms: Their use is not necessary as long as the republishing rules of this article are respected.
Print: The Choice articles can be republished according to the rules mentioned above, without the need to include the view counter and links in a printed version.
If you choose this option, please send an image of the republished article to The Choice team so that the author can review it.
Podcasts and videos: Videos and podcasts whose copyrights belong to The Choice are also under a Creative Commons license. Therefore, the same republishing rules apply to them.