Football has long been a leader in innovation in both sport and society, albeit often reluctantly.
Whilst it may seem that on-pitch developments, such as the video assistant referee (VAR) took a while to come to fruition, clubs, leagues and federations have always been quick to react to new technological opportunities and challenges off the pitch. This is especially true if there is a potential commercial benefit in the short or long run.
Although many changes to football rules and technology have historically been met with some derision, digital is the playground where the sport's stakeholders with sufficient budget can operate. Major football clubs have become early adopters of new technology, channels and innovation in recent years, and although they might not be brought in at the same speed as some American sports, they are certainly ahead of the curve in Europe.
Drake Star cites research showing that the global sports tech market is set to grow three times as fast as the rest of the global sports market at a compound annual growth rate of 23.1 per cent to reach USD 31.1 billion by 2024. The sports analytics industry alone could be worth nearly USD 4 billion by 2023, according to Deloitte's latest study of the U.S. sports industry.
How can that technology be used to benefit people who matter most to football leaders – the fans?
Working backwards to go forwards
A lot of what happens within sport starts at the end, namely with the fans. Essentially, if you keep fans happy you will more than likely grow your audience and, as a result, become a more attractive proposition commercially. Obviously, there is only so much you can control off the pitch.
No amount of digital technology can win you a league title. However, what it can do is break down the barrier between supporters and the top stars of the sport.
That barrier has never been thinner. Social media's status as only a fringe channel for sports promotion and engagement has long gone and many players boast more followers than the clubs they play for.
With that in mind, one area we have developed is ensuring clubs have the right content to share with their fans and are matching their expectations.
Often these channels depend on the target audience you are trying to reach, with millennials and generation Z using networks such as TikTok and Instagram whilst older demographics focus more on Facebook.
One of the projects Infront is currently undertaking with the Scottish Professional Football League (SPFL) is engaging advocates for the content they produce.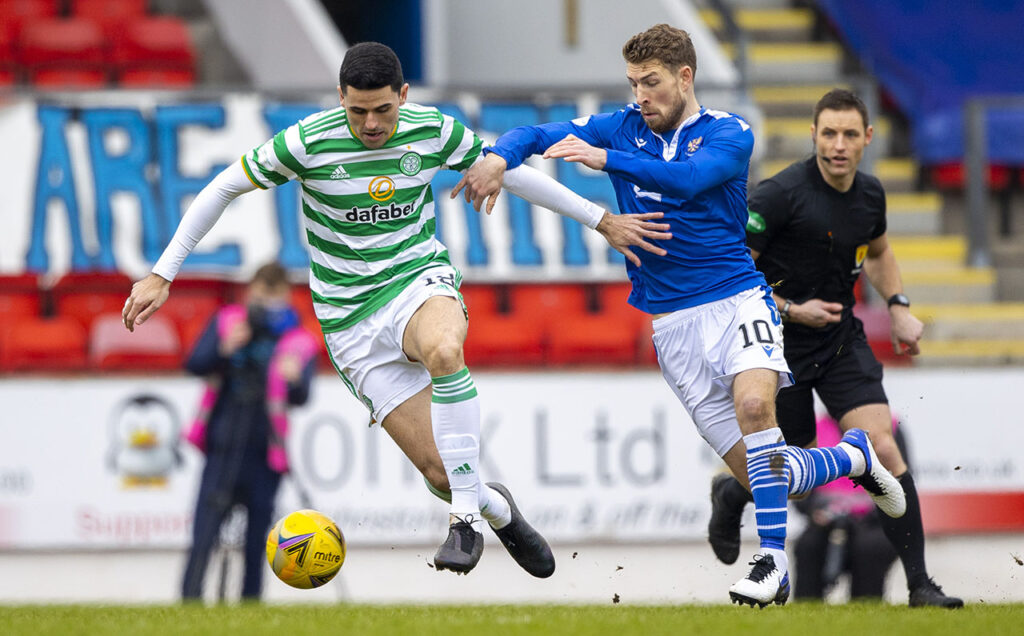 Three SPFL clubs currently share that relevant content with their fans, giving more exposure for the league and providing more target-specific content for fans. The benefit of that is added monetisation opportunities, which is mutually beneficial for everyone. It is the perfect illustration of why it is so important to start with the fans.
COVID-19 acting as a catalyst for sports tech
You cannot ignore COVID-19's impact on the wider sporting world, including football. Given the sport's huge following and economic impact it seemed to be a priority to get football back before any other sport.
Consumer expectations of what clubs and leagues should deliver to them in terms of digital experience largely matched what fans wanted on the pitch.
They recognise that the pace of the game and its players is faster than it was in the past and that players are training differently and try to match that intensity at times during the week. It's the same with digital channels.
The peak for most football fans is matchday, and nothing will ever change the engagement supporters give football stakeholders during those key moments.
However, the expectation from both consumers and sponsors is to bridge the gap between games through insight, analysis and peeking behind the curtain when it comes to the stars of the show.
That was a trend pre-COVID-19. However, the pandemic acted as a catalyst for that with so much time lapse between the matches. A lot of rights holders were providing archive footage in a creative manner to cater to fans desperate for their football fix.
Currently, we can enjoy UEFA EURO 2020. But last year many broadcasters re-ran classic matches to fill the schedules where they expected the tournament to take place, and it triggered a lot of attention.
A broader fan base
Whilst interaction between players and fans has been increasing for many years, it truly found a new level during the pandemic. Although it may have reached a plateau, there is no sign of this wave rescinding.
This is an expectation that now needs to be met, and clubs must find new and innovative solutions to get the most out of their resources and properly target their fans.
The big question is 'where do those fans sit?' There is an ever-increasing number of supporters around the world who are likely to relate to players at clubs in different regions due to their cultural background.
Football can no longer get away with catering to supporters in their local towns or across just one country or even continent. They need to have a global strategy, specifically in emerging football markets such as China.
North America is also just five years out from a World Cup, and the MLS is becoming more of a competitive league than it was 10 years ago. That growth won't slow, especially when brands begin to recognise just how easily you can reach fans if you speak the same footballing language.
That's a big question and technology can positively affect all stages of the consumer journey.
Creating immersive experiences on a matchday
Come matchday all eyes are on the game, and that brings its own opportunities in technology. It seems, in the sport industry, football has always been a leader in terms of broadcast technology and it is one area where we're going to see the most interesting developments.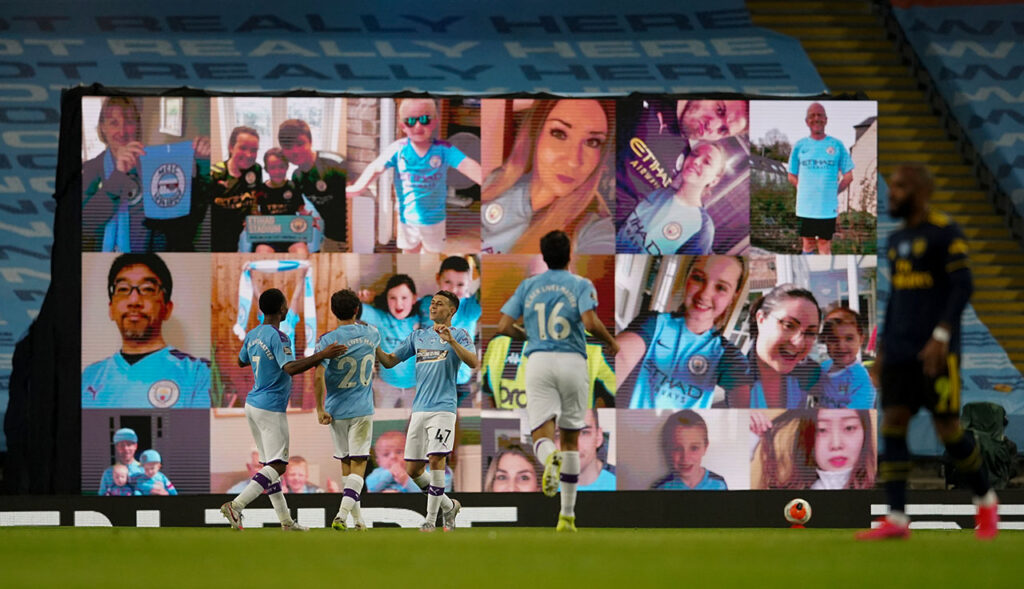 Digital's integration with the consumption of football content – through new forms of watching, via Over-the-top (OTT) media services (like Netflix or Hulu) for example – will continue to be a talking point.
Amazon's work with the Premier League over the winter holiday period in 2020 opened a lot of eyes to what could be achieved. The tech behemoth's acquisition of a major rights package of the French Ligue 1 for the 2021/22 season is also a sign of clear intent that they see huge commercial opportunity in sport.
Having a full round of matches broadcast to fans has been proven to work and technology will have to find a way to make that the case in other sports and at lower levels. Finding ways to scale that operation and meet that expectation to deliver something acceptable is one frontier that needs to be crossed.
There has also been a real steer towards non-live content for several years now. This has spurred the creation of football documentaries such as "All or Nothing" and "First Team: Juventus" on Amazon Prime and Netflix respectively.
The next generation in analytics providing context
Broadcast has also consistently leant on the rapidly improving technology that provides new in-game insights for viewers. Every minute of a match has dozens of data points and it is up to producers to find more accessible ways to provide the right context to all this analysis.
Tracking player data live, for example, is absolutely fascinating, and wearables are creating so many options that broadcasters, coaches and even sponsors can leverage. But the message needs to be clear, and throwing as many numbers as possible at viewers will ruin their experience as they will be overwhelmed. The picture of the match needs to be completed through these insights.
Translating viable tech to make a difference for the fans is where Infront fits in. The company's focus is on supporting the clubs, leagues, federations and confederations to cater to the growing demand of the new generation of supporters around the world. Because at the end of the day, football should be for the fans.
About Infront
Connecting fans and consumers to the greatest sports events, Infront offers everything an event or commercial partner needs to be successful. With a team of around 1,000 experts working from 43 offices across 16 countries around the world, Infront is equipped to tackle any challenge – be it innovative digital solutions, world-class event operations, international media rights distribution, sponsorship sales and activations or cutting-edge media production. Headquartered in Switzerland, Infront is passionate and # AllAboutSports. @infrontsports www.infront.sport.
Read also an interview with Andreas Kaeshammer for The Choice.
License and Republishing
The Choice articles may be republished in accordance with the Creative Commons Attribution-NoDerivatives 4.0 International Public License, and in accordance with our
Term of use
.
The Choice - Republishing rules
We publish under a Creative Commons license with the following characteristics Attribution/Sharealike.
You may not make any changes to the articles

published on our site, except for dates, locations (according to the news, if necessary), and your editorial policy. The content must be reproduced and represented by the licensee as published by The Choice, without any cuts, additions, insertions, reductions, alterations or any other modifications.If changes are planned in the text, they must be made in agreement with the author before publication.

Please make sure to cite the authors of the articles

, ideally at the beginning of your republication.

It is mandatory to cite The Choice

and include a link to its homepage or the URL of thearticle. Insertion of The Choice's logo is highly recommended.

The sale of our articles in a separate way, in their entirety or in extracts, is not allowed

, but you can publish them on pages including advertisements.

Please request permission before republishing any of the images or pictures contained in our articles.

Some of them are not available for republishing without authorization and payment. Please check the terms available in the image caption. However, it is possible to remove images or pictures used by The Choice or replace them with your own.

Systematic and/or complete republication

of the articles and content available on The Choice is prohibited.

Republishing The Choice articles on a site whose access is entirely available by payment or by subscription

is prohibited.

For websites where access to digital content is restricted by a paywall, republication of The Choice articles, in their entirety, must be on the open access portion of those sites.

The Choice reserves the right to enter into separate written agreements

for the republication of its articles, under the non-exclusive Creative Commons licenses and with the permission of the authors. Please contact The Choice if you are interested at contact@the-choice.org.
Individual cases
Extracts: It is recommended that after republishing the first few lines or a paragraph of an article, you indicate "The entire article is available on ESCP's media, The Choice" with a link to the article.
Citations: Citations of articles written by authors from The Choice should include a link to the URL of the authors' article.
Translations: Translations may be considered modifications under The Choice's Creative Commons license, therefore these are not permitted without the approval of the article's author.
Modifications: Modifications are not permitted under the Creative Commons license of The Choice. However, authors may be contacted for authorization, prior to any publication, where a modification is planned. Without express consent, The Choice is not bound by any changes made to its content when republished.
Authorized connections / copyright assignment forms: Their use is not necessary as long as the republishing rules of this article are respected.
Print: The Choice articles can be republished according to the rules mentioned above, without the need to include the view counter and links in a printed version.
If you choose this option, please send an image of the republished article to The Choice team so that the author can review it.
Podcasts and videos: Videos and podcasts whose copyrights belong to The Choice are also under a Creative Commons license. Therefore, the same republishing rules apply to them.