Pursuing a career that is driven by one's passion remains a desire for many. Harvey Mackay once said: "Find something you love to do and you'll never have to work a day in your life." In the case of Andreas Kaeshammer, the perfect balance of a profound love for football and a solid business and management background landed just that.
In January 2021, Andreas Kaeshammer was appointed the new global Head of Football by Infront Sports & Media AG, a Wanda Sports Group company, which is a leading global sports events, media and marketing platform.
As football remains strategically important to Infront, it also continues to undergo significant transformation, especially in relation to the pandemic. The company currently serves over forty football rightsholders at all levels of the sport including continental, national, league and club football. Andreas's new mandate will centre on tackling the ongoing developments to ensure the company maintains and builds on its position as one of the leaders in the market.
A German national, Andreas has a strategy consulting background. Before joining Infront in 2016, Andreas worked at Bain & Company as a consultant. He is an alumnus of ESCP Business School's Master in Management programme, as well as a co-founder and an active member of Zukunft Madagaskar, a charity that promotes education and science in Madagascar.
He shares with The Choice some insights into Infront's vision and its forthcoming projects, his experience and love for football. All in all, he remains very optimistic about the future of the sports industry.
Have you always been passionate about football, or has this grown over the years?
Football has always been my number one passion and always at my very heart. All my best friends have been from my football team, and wherever I've been in the world, studying and travelling, I joined a local team to play. Also, I follow the teams that I favour around the world. One of the best moments in my life was in 2014 in Copacabana (Brazil), when Germany won the World Cup.
How much knowledge of sport itself is important when working for Infront?
It is important to distinguish between watching and doing a sport and knowing the game rules vs. the business side of it, the commercialisation of rights and events management.
A deep market knowledge is important to be successful in the sport industry. For Infront, the main areas of expertise that are vital are:
An understanding of the different business models in the sector: from spectator (watching on-screen entertainment) vs. participation sports to "services" like event staging, rights management (which is our focus), digital services, etc.
Networking – it takes many years to develop and is crucial to succeed: with rightsholders such as FIFA and the Premier League, with brands to gain sponsorship to support events, and with TV and media companies for media rights.
In our headquarters in Zug (Switzerland), we are managing global football activities with a focus on international rights for media.
Multilingualism and cross-cultural management were invaluable skills, which I acquired and now get to experience daily
What experiences in your career do you think played a pivotal role in helping you get to this point?
Looking back to ESCP, as soft as it sounds, multilingualism and cross-cultural management were invaluable skills, which I acquired and now get to experience daily. Especially what managing in an international setting really means.
In addition, I gained a comprehensive business administration skillset much needed for general management. Also, a high degree of quick adaptability and knowing how to hit the ground running in new settings, which I learnt through studying in Berlin, London and Paris during three years. From landing in a completely new place and finding a new flat, to opening a bank account and finding your local doctor every few months in another city. As trivial as it might sound, these were the things most people would not be familiar with on their own, and such adaptability and skills later helped me in managing projects in a work environment.
From the consulting side, the top-tier partner management and the entire strategy consulting "toolbox" helped my project management and business development skills. I would recommend any graduate gain such experience 2-3 years after graduation.
What else mattered in helping you become the Head of Football at Infront?
Some of the factors that brought me to this position were multi-project management skills and a mastering of complex and larger scale projects. Internally, stakeholder management and, externally, strong client servicing and a solution-oriented mindset were key. Interpersonal skills, determination, speeding up and not shying away from work and new responsibilities mattered. From another angle, natural enthusiasm, passion and a fun and positive attitude towards my job and position were also key to succeed in the world of sports entertainment.
Would you describe Infront and the sports industry as still a male-dominated environment?
Within the sports industry, I agree it still seems predominantly male-dominated, but we have a good share of female colleagues across different areas of expertise in our company. We value all applications that showcase knowledge, experience and deep passion for a particular sports domain. I encourage any woman who wants to pursue a career in sports and within Infront to do so. After all, we are in a spectator industry, and while this has traditionally been more male-oriented, women's sports are certainly one of the key growth areas, like the recent, fast-growing interest in women's football.
Will Infront focus its efforts on promoting and showcasing female players?
Speaking from an industry perspective, women's sports are a rising entertainment product. Infront identified this trend a while ago and developed solutions to cater to this. It is new media platforms that help to give these sports bigger exposure, which then enables more sponsorship and financial success. For example, brands like Visa are placing a strong emphasis on standalone sponsorships for women's sports, such as the UEFA's women's football tournaments.
I'm sure taking on this new role in the midst of a global pandemic is a challenge in itself, but more specifically, how has it impacted the sector?
Covid-19 has strongly impacted the sector, as with many other entertainment-focused businesses. On a cultural layer, it has had a huge effect too as many games have been staged with no spectators.
At the same time, I am delighted to take on this new role during a period of immense potential for Infront and football as a whole. The sport finds itself in a period of transition with new developments in the market, most notably the integration of innovative digital solutions in sports technology, and it is crucial to merge these with the traditional rights business.
What do you consider to be the main challenges for the sports industry and its marketing and media relations in 2021? The next five years?
The number one challenge for the near future is to ensure that events happen, which will depend on pandemic and government restrictions. Without events, there will be further financial constraints for the entire industry. As it brings certain relief, it is only an intermediate solution that viewers can enjoy sports entertainment in the comfort of their home. It is imperative that we see cheering stadiums or a ski race live, next to a slope. This is an irreplaceable experience.
With these financial constraints, another challenge will be tight budgets of sponsors and broadcasters, as well as increased financing needs of sports entities that struggle in the Covid crisis. We have already noticed an increased entrance of private equity in the sports market in order to mitigate the current financial needs.
My main inspiration was to give something back from the great education which I was fortunate to receive
Besides working to tackle these major challenges in your new role, you also continue to be an active member of Zukunft Madagaskar, the charity you co-founded to promote education and science in Madagascar. Could you tell us more about what inspired you to start this charity?
We funded it back in 2008, between my bachelor and master's studies. My main inspiration was to give something back from the great education which I was fortunate to receive. And simply passion and fun for supporting others in need. Zukunft Madagaskar has had amazing results since the start, as we have been funding about 80 scholarships annually to local students at ESSVA university (Ecole Supérieure Spécialisée du Vakinankaratra) in Antsirabe.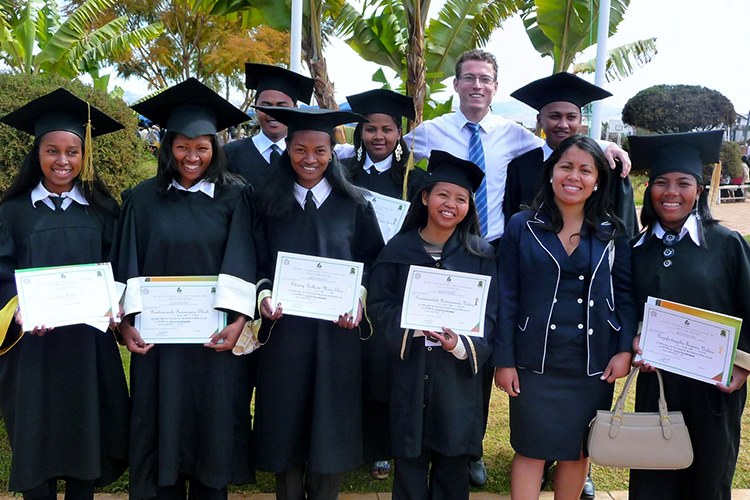 What are your current projects? How could someone get involved?
We constantly send groups of volunteer lecturers through our education exchange programme, and as we continue to fundraise for scholarships, we always welcome financial support. Our website is in German. For any queries, just send me a message.
What is your secret to successfully managing both such demanding worlds?
Most important is the mentality of getting things done and walking the talk.