In a huge 7,000-square-meter factory, rows of green salads and herbs rise up 14 levels. We are in the largest vertical farm in Europe, Nordic Harvest in the industrial Danish city of Taastrup. Here, the entire natural ecosystem of the field is replicated in a soilless agriculture system. Plants are artificially irrigated, light for photosynthesis is provided by LEDs, and nutrients come from fertilizers made on-site from fermented plant waste.
Putting technology and innovation at the service of sustainable agriculture
After fundraising 8.5 million euros in April 2020, Nordic Harvest inaugurated the building in December. Today, production is limited to salads and aromatic herbs, but the company also plans to produce berries within two years, and root vegetables within five to ten years. Underneath this ambitious technological project lies a far-reaching societal mission, as founder Anders Riemann asserts:
"With the help of innovation and modern technological tools, we want to produce plants in a reduced space with sustainable and ecological methods. By doing so, we intend to free up agricultural land and fight deforestation, while limiting the use of energy, water and chemicals."
Offering qualitative, nutritious and sustainable veggies at affordable prices
This alternative farming system offers much higher productivity than conventional agriculture: plants can be harvested 15 times a year instead of two in a conventional field. Since light, water, CO2 and nutrients are constantly available, the growth pace of the plant is boosted and provides a perfectly similar taste and nutritional richness. Today, the plant can deliver 1,000 tons of salads and herbs each year, which accounts for 5% of the Danish consumption. Anders Riemann's long-term objective is to extend this model in order to support the country's food sovereignty and to fight against imports, which are harmful both to the environment and to the local economy.
With the help of innovation and modern technological tools, we want to produce plants in a reduced space with sustainable and ecological methods.

Anders Riemann, founder of Nordic Harvest
Vertical farming has already proved its effectiveness in terms of resource optimisation. The entire building is powered by wind energy and the light is provided by low energy LEDs. Regarding water, the consumption is about 250 times lower than in a field with one liter of water required to produce one kilogramme of plants.
Moreover, the products can be kept for 13 to 14 days instead of three to four for the equivalent products from conventional agriculture, making this model a real solution to fight against food waste. Another advantage of vertical farms is their strategic location close to cities, which allows them to reduce transportation costs to get their products to the consumer. Finally, even if vertical farms cannot claim the organic label because their products are raised above ground, they do not require any pesticides because no pests come to deteriorate the products.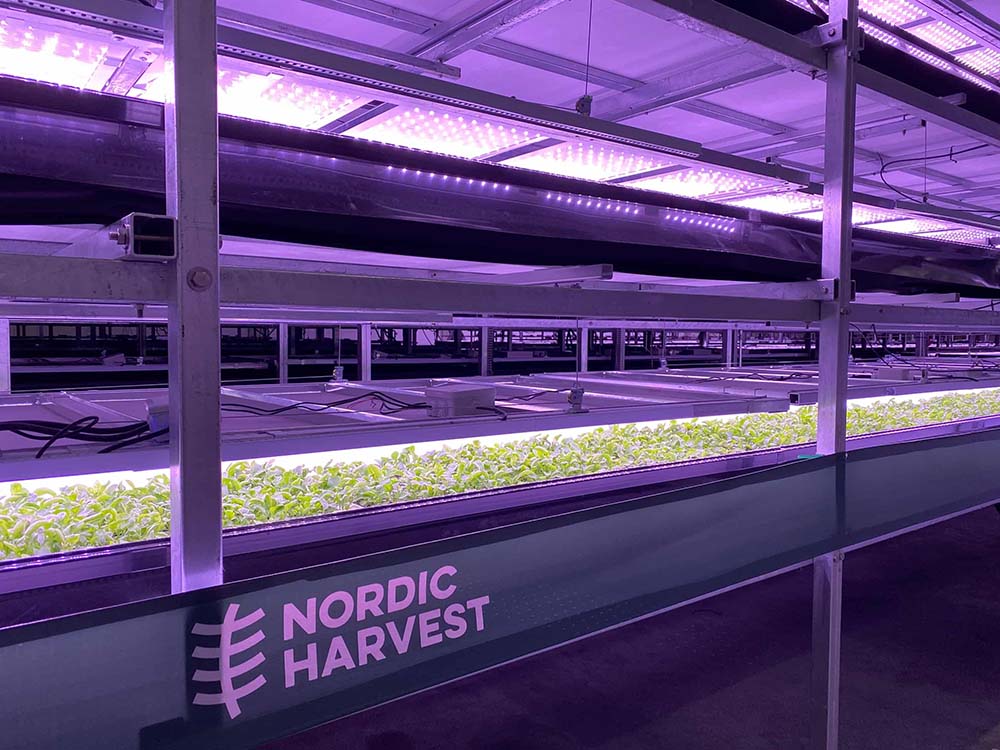 A concept that is gradually taking hold in Europe and attracting investors
These vertical farming projects first emerged in Asia in the 2010s, where the booming urbanisation required new ways to feed the population locally. They were then exported to the United States and are now slowly making their way to Europe. According to Statista, the vertical farming market is expected to generate 15.7 billion U.S. dollars by 2025. Launching such a farming initiative requires huge amounts of capital to make the initial investments. That is why entrepreneurs typically turn to investment funds. The most recent significant European project recorded was last March, when the startup Jungle raised 42 million euros, including 7 million in equity from a pool of investors. This company operates on a FAAS ("farming as a service") model, running farms that still belong to their clients. Today, they already manage a 5,500-square-meter farm in the French Aisne region, and they intend to double their size to produce ten million plants in Europe.
Nature lovers, be reassured. These initiatives will not replace conventional agriculture as they are not profitable for all sorts of fruits and vegetables but will only complement it. With approximately 9.7 billion people expected on earth in 2050, vertical farms seem to be a promising way forward that we should hear a lot about in the coming years.
---
About the authors:
The authors of the article are three students from the Master in Management Programme at ESCP: Julie Deshayes, Lucie Renard and Juliette Fournier Le Ray. They co-founded the association "10 milliards à table" [10 billion to the table] which aims at finding solutions to feed an ever-growing population in a fair and sustainable way. They decided to take a gap semester to work on this project and are now travelling throughout Europe for 7 months (from January to July) to work on business development projects within organisations that are trying to offer sustainable food solutions, all along the food product's life cycle (from field to fork).
In this context, they have been to Berlin in the association Real Junk Food, to Copenhagen in the startup Nordic Snails, to Stockholm in the vegan café Fern & Fika, and finally to a permaculture farm in Scotland. In addition to their missions, they have met many inspiring actors engaged in promoting sustainable food initiatives and are making a movie out of it, which should be broadcasted at ESCP next semester. Finally, they are working on a consumption guide for students who are trying to eat healthy and fair products within a restricted budget.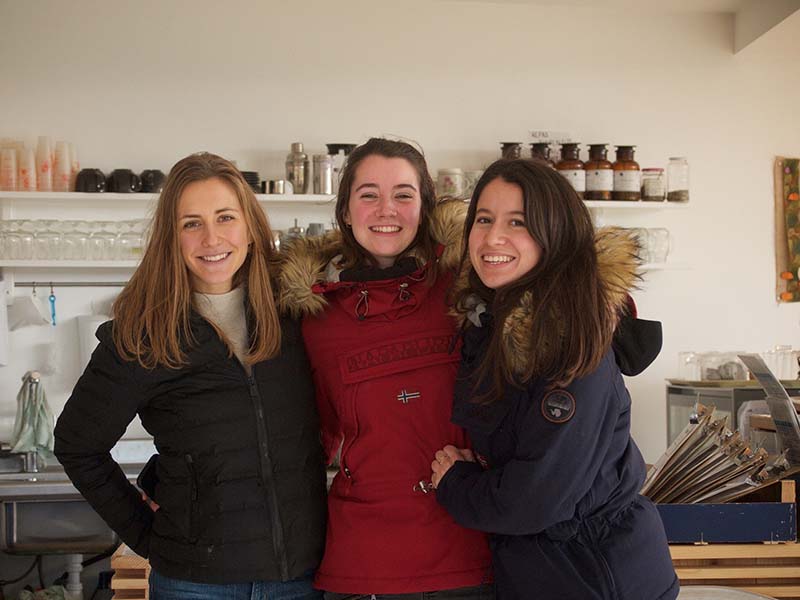 You can follow them on their website and social media: Facebook & Instagram.
License and Republishing
The Choice articles may be republished in accordance with the Creative Commons Attribution-NoDerivatives 4.0 International Public License, and in accordance with our
Term of use
.
The Choice - Republishing rules
We publish under a Creative Commons license with the following characteristics Attribution/Sharealike.
You may not make any changes to the articles

published on our site, except for dates, locations (according to the news, if necessary), and your editorial policy. The content must be reproduced and represented by the licensee as published by The Choice, without any cuts, additions, insertions, reductions, alterations or any other modifications.If changes are planned in the text, they must be made in agreement with the author before publication.

Please make sure to cite the authors of the articles

, ideally at the beginning of your republication.

It is mandatory to cite The Choice

and include a link to its homepage or the URL of thearticle. Insertion of The Choice's logo is highly recommended.

The sale of our articles in a separate way, in their entirety or in extracts, is not allowed

, but you can publish them on pages including advertisements.

Please request permission before republishing any of the images or pictures contained in our articles.

Some of them are not available for republishing without authorization and payment. Please check the terms available in the image caption. However, it is possible to remove images or pictures used by The Choice or replace them with your own.

Systematic and/or complete republication

of the articles and content available on The Choice is prohibited.

Republishing The Choice articles on a site whose access is entirely available by payment or by subscription

is prohibited.

For websites where access to digital content is restricted by a paywall, republication of The Choice articles, in their entirety, must be on the open access portion of those sites.

The Choice reserves the right to enter into separate written agreements

for the republication of its articles, under the non-exclusive Creative Commons licenses and with the permission of the authors. Please contact The Choice if you are interested at contact@the-choice.org.
Individual cases
Extracts: It is recommended that after republishing the first few lines or a paragraph of an article, you indicate "The entire article is available on ESCP's media, The Choice" with a link to the article.
Citations: Citations of articles written by authors from The Choice should include a link to the URL of the authors' article.
Translations: Translations may be considered modifications under The Choice's Creative Commons license, therefore these are not permitted without the approval of the article's author.
Modifications: Modifications are not permitted under the Creative Commons license of The Choice. However, authors may be contacted for authorization, prior to any publication, where a modification is planned. Without express consent, The Choice is not bound by any changes made to its content when republished.
Authorized connections / copyright assignment forms: Their use is not necessary as long as the republishing rules of this article are respected.
Print: The Choice articles can be republished according to the rules mentioned above, without the need to include the view counter and links in a printed version.
If you choose this option, please send an image of the republished article to The Choice team so that the author can review it.
Podcasts and videos: Videos and podcasts whose copyrights belong to The Choice are also under a Creative Commons license. Therefore, the same republishing rules apply to them.