In 2018, Giulia Colangeli, 28, and her sister Caterina, 21, decided to re-open the family liqueur factory originally founded by their great-great-grandfather in 1937. After twenty years, deep in the heart of Italy, they have restarted the production of a series of liqueurs, using their grandparents' original recipes. For The Choice, Giulia Colangeli tells us about Chinzari and the challenges ahead for her family business.
How did the Chinzari story start?
The business was founded by my great-great-grandfather, Bernardino Chinzari, in 1937. He set up a laboratory in the basement of the family house in a small village, Antrodoco, in the countryside between the Lazio and Abruzzo regions, not far from Rome. In 1940, he moved his laboratory to a place dedicated to the production of spirits. During World War II, all activity was suspended. But production restarted around 1950, when a proper distillery was built. In the following years, the business started to grow; they had 10 to 15 employees and the brand was well-known in the area. In the 1980s, his sons Arcibaldo and Matteo Chinzari – my grandfather – started managing the company. But eventually, the factory closed.
Why did everything stop more than twenty years ago?
In the 1990s, the beverage industry was characterised by a lot of mergers and acquisitions, and the creation of big corporations. At that time, our company didn't react appropriately and wasn't able to understand and predict the market. They tried to attract major retail chains and wanted to merge with another local company, but unfortunately, it just didn't happen.
In 2018, you and your sister reopened the factory. Why did you make this choice?
There were several reasons for reopening, but the decision was essentially driven by emotional and personal ones. With Caterina, we have always been firmly convinced that Chinzari would be part of our future. Chinzari is our mother's surname and represents the family in which we grew up and from whom we learned all the values that inspire us today. In our view, those same principles should also be the guide for a company: it should not only be profitable but also sustainable, and it should care for the well-being of its people. Our entrepreneurial spirit also came from our family. So there came a time when we had to decide what to do with the distillery building: to give it up or to start the business again. And we decided to reopen it and dive into this adventure.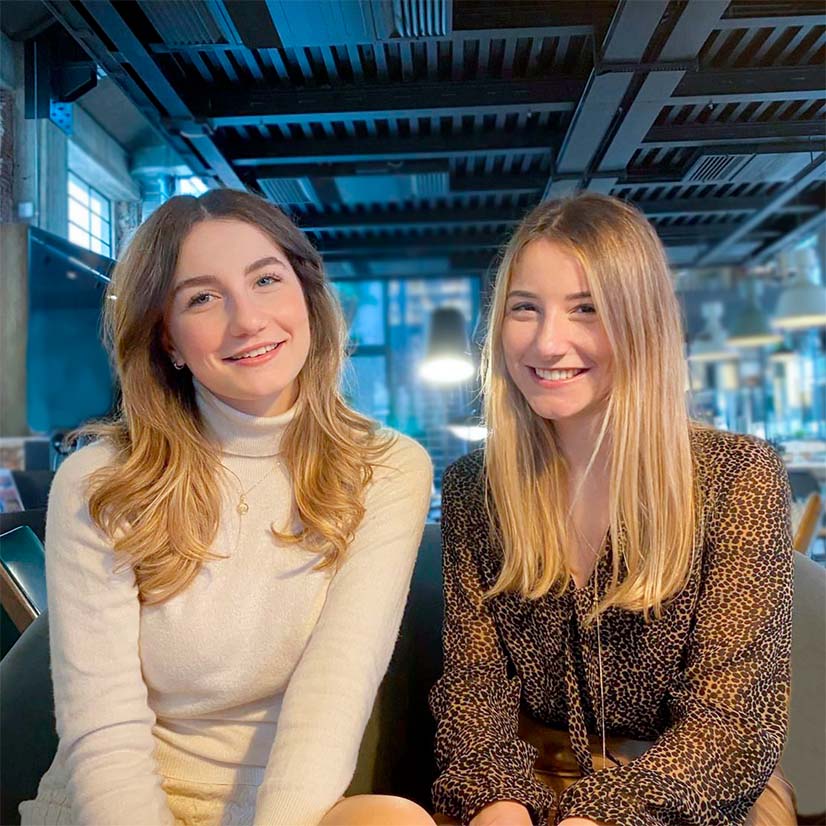 How did you prepare for the reopening? Were there specific steps you had to take?
In the first distillery, our family used to produce 30 to 40 different kinds of liqueurs. But we started production with only four original recipes, because it would have been impossible otherwise. Then we started to think about how to create a competitive business model for the current market and our potential customers. We are currently selling our products with the same label and the same bottles as in the past. We have spent two years trying to define our new label and new bottles. We want to create a more modern brand, but at the same time, we want to maintain a strong relationship with our history.
We are perfectly aware that this sense of tradition is our main strength.
A number of technical steps are still pending completion, involving financing and building work, as we are restructuring the distillery itself. At the moment, our bottles are being produced in another small artisanal factory which is near ours and is owned by a friend of my grandparents. We should be able to start production in the new distillery in February 2022.
Is it just you and your sister managing the firm?
No, there are three of us, with my father, who is the CEO. He is an entrepreneur and has his own business. For Chinzari, he's in charge of many of the technical aspects, from the construction work to the financing of the business. I'm dealing with sales, distribution and marketing, and my sister is helping my father with the construction side. She's an engineer, so is more comfortable with that part. My mother is not directly involved, but she is cooperating a lot, of course. I hope we can employ at least four to six people as soon the factory reopens.
As the new co-founder, at such a young age, do you feel added pressure for the company to prosper?
We are proceeding slowly, step by step, to limit any major potential risk. Of course, I feel pressure, but we are trying to do everything at the right time. My sister and I are lucky because the firm has been closed down for a while, and we see this opportunity as a new start, but it's a big challenge because we are more entrepreneurs than professional managers, and, ultimately, we're members of a family.
Are there difficulties involved in working with members of your own family?
To be honest, it's not always easy. Family relationships shouldn't be professional relationships. We try to separate our personal and working lives. But sometimes, it doesn't work. Caterina and I are still studying (Giulia currently has a master's in law and is working toward a master's in corporate finance), and my father has his own job, so we have to adapt our activities because we are not always available at the same time.
Family relationships shouldn't be professional relationships. We try to separate our personal and working lives.
Where do you see Chinzari in the future?
Today, we are trying to adapt our business model to a beverage market industry that is full of products. At the moment, because of the pandemic, we are producing in very low quantities. We are selling through some grocery shops and directly to the public, but not to restaurants. So, we are using this period to work on our labeling and to do trials on other spirits. Our main strength is our history and the quality of our liqueurs, so we are trying to make the most of that. Ultimately, the idea is to have a super-premium product sold by upscale shops, restaurants and cocktail bars, while also being available online from our website.
License and Republishing
The Choice articles may be republished in accordance with the Creative Commons Attribution-NoDerivatives 4.0 International Public License, and in accordance with our
Term of use
.
The Choice - Republishing rules
We publish under a Creative Commons license with the following characteristics Attribution/Sharealike.
You may not make any changes to the articles

published on our site, except for dates, locations (according to the news, if necessary), and your editorial policy. The content must be reproduced and represented by the licensee as published by The Choice, without any cuts, additions, insertions, reductions, alterations or any other modifications.If changes are planned in the text, they must be made in agreement with the author before publication.

Please make sure to cite the authors of the articles

, ideally at the beginning of your republication.

It is mandatory to cite The Choice

and include a link to its homepage or the URL of thearticle. Insertion of The Choice's logo is highly recommended.

The sale of our articles in a separate way, in their entirety or in extracts, is not allowed

, but you can publish them on pages including advertisements.

Please request permission before republishing any of the images or pictures contained in our articles.

Some of them are not available for republishing without authorization and payment. Please check the terms available in the image caption. However, it is possible to remove images or pictures used by The Choice or replace them with your own.

Systematic and/or complete republication

of the articles and content available on The Choice is prohibited.

Republishing The Choice articles on a site whose access is entirely available by payment or by subscription

is prohibited.

For websites where access to digital content is restricted by a paywall, republication of The Choice articles, in their entirety, must be on the open access portion of those sites.

The Choice reserves the right to enter into separate written agreements

for the republication of its articles, under the non-exclusive Creative Commons licenses and with the permission of the authors. Please contact The Choice if you are interested at contact@the-choice.org.
Individual cases
Extracts: It is recommended that after republishing the first few lines or a paragraph of an article, you indicate "The entire article is available on ESCP's media, The Choice" with a link to the article.
Citations: Citations of articles written by authors from The Choice should include a link to the URL of the authors' article.
Translations: Translations may be considered modifications under The Choice's Creative Commons license, therefore these are not permitted without the approval of the article's author.
Modifications: Modifications are not permitted under the Creative Commons license of The Choice. However, authors may be contacted for authorization, prior to any publication, where a modification is planned. Without express consent, The Choice is not bound by any changes made to its content when republished.
Authorized connections / copyright assignment forms: Their use is not necessary as long as the republishing rules of this article are respected.
Print: The Choice articles can be republished according to the rules mentioned above, without the need to include the view counter and links in a printed version.
If you choose this option, please send an image of the republished article to The Choice team so that the author can review it.
Podcasts and videos: Videos and podcasts whose copyrights belong to The Choice are also under a Creative Commons license. Therefore, the same republishing rules apply to them.