There are over 6,000 certified B Corporations in the world. These firms, which are certified based on a number of ESG-related criteria, range from small businesses to global brands. Companies often pursue the label to signal values to the outside world. After a while, however, the stakes for what it means inside the company can be even higher.
A movement toward economic empowerment through self-determination
Poverty, unemployment and health disparities in indigenous communities are rooted in the generational trauma that resulted from colonization. Throughout American Indian, Alaska Native and Native Hawaiian communities, leaders are reversing these trends through business innovation and cultural revitalization.
Starting with one employee in 1994, Ho-Chunk, Inc. set out to make the Winnebago Tribe of Nebraska economically self-sufficient. Today, this diversified, tribally-owned social enterprise employs 1,500 people. It has led the development of a sustainable, mixed-use community of affordable housing in proximity to quality jobs.
In 1973, leaders of the Standing Rock Sioux Tribe laid out a vision to establish a higher education institution based on Lakota and Dakota values, language and culture. Today, Sitting Bull College serves hundreds of indigenous students every year as they pursue degrees in a range of fields.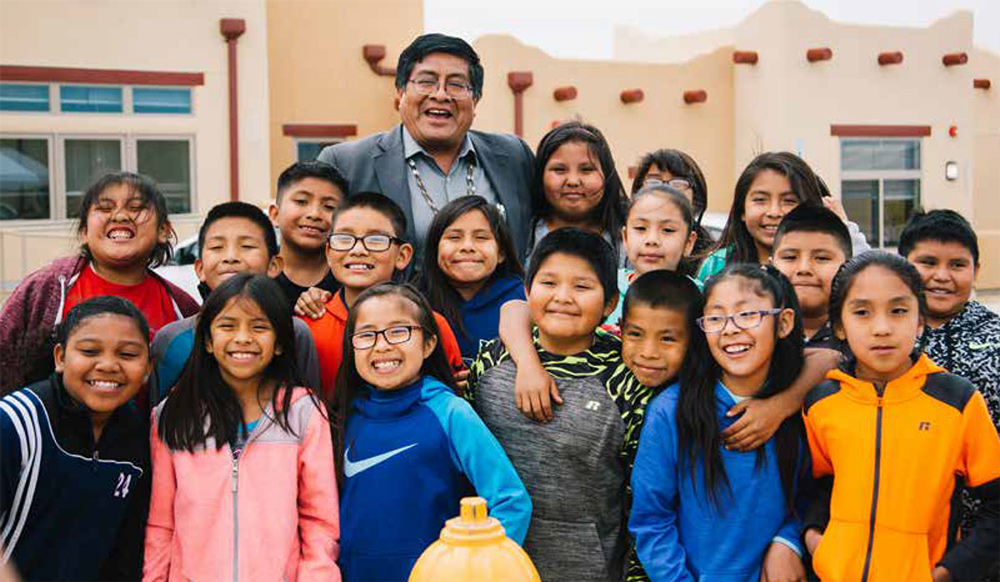 Throughout the 1970s and 1980s, leaders of the Coeur d'Alene Tribe saw suffering in their community due to the lack of access to health care. Beginning with the opening of a tribally-controlled health center in 1990, the tribe's Marimn Health now delivers a full range of programs and services designed by and tailored to indigenous people.
As a new generation of native leaders steps to the fore, this movement toward economic empowerment through self-determination will only accelerate.
A parallel movement to balance profit and purpose
Travois has worked since 1995 on behalf of these and other indigenous communities to provide investment capital and services. The communities we work for have created over 5,000 jobs and built over 5,000 homes. In 2019, we realized that our company was also part of a movement. We obtained B Corp certification and joined a network of over 6,500 companies that balance profit and purpose.
Companies obtain B Corp certification through a rigorous assessment on a range of criteria including labor standards and environmental impact. In recent years, the B Corp movement has come under greater scrutiny. Decisions about certification standards have created divides within the B Corp movement itself. This is all taking place as debates rage around ESG specifically and the role of business in society generally.
The B Corp label isn't just a window. It's also a mirror.
Like many B Corps, we initially pursued certification to let the world know what we were up to. We thought that by shining a light on what we and our clients had accomplished we could attract new capital and create more momentum for our shared efforts. We thought the B Corp label would be a window into our world. We weren't wrong.
The certification has helped us access new networks and build new relationships. What we have learned, however, is that the real value is not in the certification itself but in the process a company must go through to get (and keep) it. The B Corp label isn't just a window. It's also a mirror.
Maintaining culture and embracing change
Travois is in its second generation as a family business. Our founders had a clear goal: to work on behalf of indigenous communities to build affordable housing and create quality jobs. The Travois – a tool used by Native Nations in the 19th century to transport valuable things across rough terrain – is both our name and a metaphor for what we do.
In its early days, our company was a small, tight-knit group. The shared values of respect for tribal sovereignty and aggressive advocacy for our clients formed the foundation of our culture. We have grown over the years to meet the demands of our clients. We have dealt with the challenges of maintaining those values and that culture through retirements, an ownership transition and the ups-and-downs of running a business.
The recertification process has been an opportunity to take stock of our progress.
The B Corp certification process required us to put into words a lot of important aspects of our culture that had previously been assumed and unspoken. The process required us to measure certain things that we knew were important but had never been put under a microscope. The recertification process – what a B Corp must do to renew its status – has been an opportunity to take stock of our progress.
We have always had a social mission. That has not changed. But maintaining B Corp certification has helped us see our processes in a new light. Things we used to see as personal and familial we now realize must be institutional. By embedding our culture and values into institutions, we can adapt to a changing environment – new opportunities, new employees, new customers – and stay true to our founders' vision. The internal committees and reporting processes we set up to maintain B Corp certification have helped us do this. They have helped us look in the mirror and hold ourselves accountable.
Striking a balance
We balance our profit motivation and social mission in a variety of ways. Our advisory board's input and guidance is crucial. We recruit employees who have the passion to serve indigenous communities and the skill sets to add value to projects. We have established institutions within Travois that align the community development goals of our clients and the ROI expectations of our investors.
The guardrails we have established to maintain this balance are important. But more than anything, our choice to balance profit and purpose is our attempt to live up to the example set by our clients as they build for the future.
License and Republishing
The Choice articles may be republished in accordance with the Creative Commons Attribution-NoDerivatives 4.0 International Public License, and in accordance with our
Term of use
.
The Choice - Republishing rules
We publish under a Creative Commons license with the following characteristics Attribution/Sharealike.
You may not make any changes to the articles

published on our site, except for dates, locations (according to the news, if necessary), and your editorial policy. The content must be reproduced and represented by the licensee as published by The Choice, without any cuts, additions, insertions, reductions, alterations or any other modifications.If changes are planned in the text, they must be made in agreement with the author before publication.

Please make sure to cite the authors of the articles

, ideally at the beginning of your republication.

It is mandatory to cite The Choice

and include a link to its homepage or the URL of thearticle. Insertion of The Choice's logo is highly recommended.

The sale of our articles in a separate way, in their entirety or in extracts, is not allowed

, but you can publish them on pages including advertisements.

Please request permission before republishing any of the images or pictures contained in our articles.

Some of them are not available for republishing without authorization and payment. Please check the terms available in the image caption. However, it is possible to remove images or pictures used by The Choice or replace them with your own.

Systematic and/or complete republication

of the articles and content available on The Choice is prohibited.

Republishing The Choice articles on a site whose access is entirely available by payment or by subscription

is prohibited.

For websites where access to digital content is restricted by a paywall, republication of The Choice articles, in their entirety, must be on the open access portion of those sites.

The Choice reserves the right to enter into separate written agreements

for the republication of its articles, under the non-exclusive Creative Commons licenses and with the permission of the authors. Please contact The Choice if you are interested at contact@the-choice.org.
Individual cases
Extracts: It is recommended that after republishing the first few lines or a paragraph of an article, you indicate "The entire article is available on ESCP's media, The Choice" with a link to the article.
Citations: Citations of articles written by authors from The Choice should include a link to the URL of the authors' article.
Translations: Translations may be considered modifications under The Choice's Creative Commons license, therefore these are not permitted without the approval of the article's author.
Modifications: Modifications are not permitted under the Creative Commons license of The Choice. However, authors may be contacted for authorization, prior to any publication, where a modification is planned. Without express consent, The Choice is not bound by any changes made to its content when republished.
Authorized connections / copyright assignment forms: Their use is not necessary as long as the republishing rules of this article are respected.
Print: The Choice articles can be republished according to the rules mentioned above, without the need to include the view counter and links in a printed version.
If you choose this option, please send an image of the republished article to The Choice team so that the author can review it.
Podcasts and videos: Videos and podcasts whose copyrights belong to The Choice are also under a Creative Commons license. Therefore, the same republishing rules apply to them.