After two years of pandemic and managerial adjustments, we need to take a step back to define the 'new normal'. My research allows me to draw lessons and define the expectations, practices and characteristics of this post-Covid 'new normal'.
First observation: redefining employee commitment with the 5R® model
The research I carried out with 2,245 employees and managers in 2020–22 has underlined the growing difficulty companies encounter in attracting talents and making employees more committed:
Young talents have specific demands about meaningful work, the chance to work from home and their level of pay.
Employees have a new understanding of their commitment to an organisation. They do not feel particularly indebted or loyal to their company. Yet they do feel committed to their working environment, to the community of those in their profession, to their clients or to their team.
This requires firms to review their strategy for motivating their employees.
Since the pandemic broke out, the world has seen an unprecedented wave of resignations. A trend dubbed the Great Resignation has emerged very clearly in the US and India, but it has been affecting the European job market too. PwC's Global Workforce Hopes and Fears Survey 2022 revealed that one in five employees worldwide is ready to switch employers in the next twelve months.
Through my research, I have put forward a scientific model that several firms have approved: the 5R® model. The 5 Rs in the model need to be applied and brought to life for a team to be committed and work together positively, whether the team is in-house, external, hierarchical or cross-disciplinary. They are the deciding factors (the 'levers') that make employees commit themselves to a group positively.
Roles: give each employee a role that contributes to the team and complements their official job tasks.
Rules: select and underline the firm's rules – they are vital for the project to be carried out.
Routines: develop them alongside the team members – they characterise the group's culture.
Respect: define the marks of basic respect in the group.
Recognition: the employee's contribution to the team is acknowledged individually.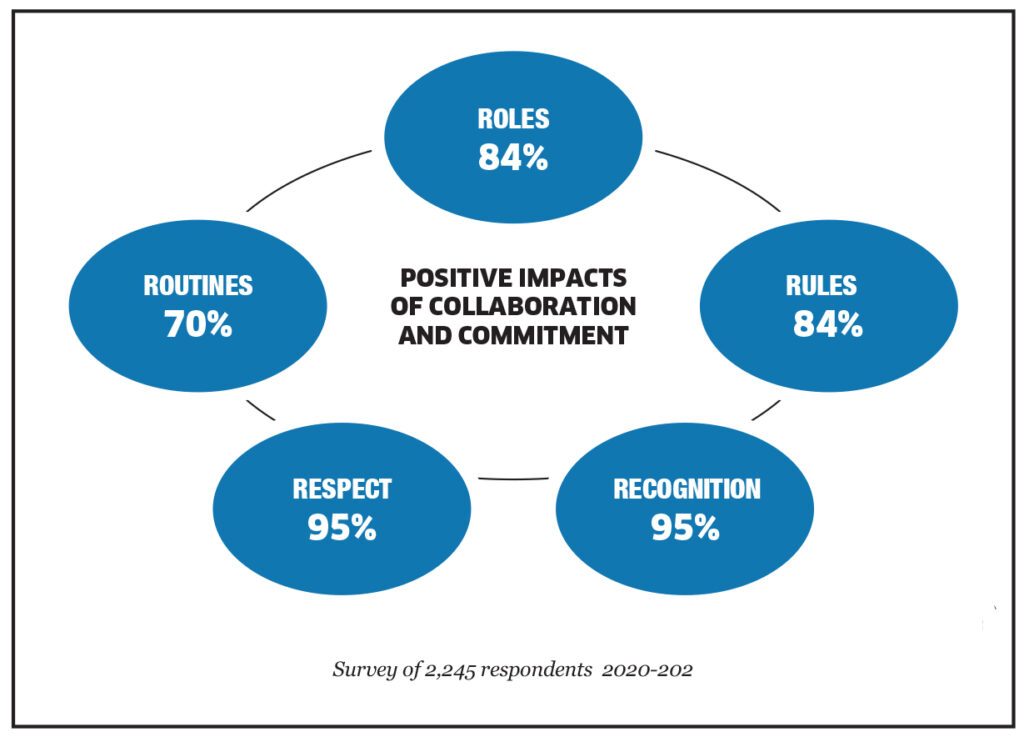 The statistical results of my research shedding light on the 5 Rs (cf. diagram above) show that employees strongly need recognition (95%) and signs that they are respected (95%) when they work collaboratively. When these conditions are met, they are willing to take on responsibilities through roles (84%) as part of well-defined organisational rules (84%) and are happy to develop routines in their group while still enjoying more flexibility (70%). Their positive and collaborative commitment finds expression when, after discussing with other team members, they voluntarily take on roles that bring the team success.
Second observation: giving managers the tools they need to develop a mental-health strategy to tackle the alarming rise in burnout and psychosocial hazards
The pandemic triggered a huge rise in burnout and psychosocial hazards. But the big change, which has grown ever clearer, has been an increase in mental health problems among young newcomers in the job market. For example, a 2021 survey from Deloitte revealed that 77% of professionals claimed to have experienced burnout in their current job also revealed that 84% of millennials claimed to have done so.
By 2019, burnout in workforces had grown so much that the World Health Organization (WHO) decided to add the phenomenon to its International Classification of Diseases. The WHO defines burnout as a "syndrome conceptualized as resulting from chronic workplace stress that has not been successfully managed".
Mental health has therefore become a strategic issue for managers and HR directors in 2022. It has become a clear feature of the 'new normal' for three main reasons:
The first reason is managerial. How do you prepare managers – in concrete terms – to detect mental health issues, support employees in such issues and i turn protect themselves? This is a new responsibility they have to bear at a time when they are already overworked. This societal phenomenon is clearly accelerating at the pace of digital innovations and of the metaverse. Employees are also required to operate at this pace, which is becoming increasingly unsustainable from a human point of view.
The second reason is economic. According to the WHO, when a firm invests one euro in tackling mental health issues it gains four euros in productivity in return.
The third reason is legal. Some countries like France have introduced new legislative measures in health at work that strengthen a requirement for firms to write up and update assessments of their occupational hazards, with an emphasis on prevention.
My conviction: care management has emerged as an effective managerial practice attuned to the 'new normal'
In light of my statistical studies and dozens of interviews with HR heads and directors of strategy and transformation, I think managerial practices in the 'new normal' should be redefined. They should take into account the two observations stated above: the need to reinvent employee commitment based on the 5R® model and to give managers the tools they need to develop strategies in mental health, prevention and fighting burnout.
Care management equips managers to take care of themselves, their teams and their communities in a logic of balance, performance and commitment.
I put forward the following definition of care management: 'Care management is a range of managerial practices designed to give employees the tools they need to reach a work-life balance through a system of positive commitment.' It is based on the 5R® model of positive and collaborative commitment. Therefore, care management equips managers to take care of themselves, their teams and their communities in a logic of balance, performance and commitment.
---

This article was originally published in the October 2022 issue of French magazine RH&M.
This post gives the views of its author, not the position of ESCP Business School.