As consumers are increasingly asking for brands to take a stance on societal issues, managers need to decide how to react when a geopolitical crisis like the war between Russia and Ukraine arises. Considering the financial and political risks on the one hand and the reputational and branding risks on the other hand, brands can face a dilemma in response to which Laetitia Mimoun offers different possible strategies.
Why brands are increasingly taking a stance in geopolitical crises
It's not new to think of brands as geopolitical actors disseminating ideologies that advance the interests of their country of origin. For instance, many have criticised global U.S. brands such as Coca-Cola and McDonald's for supporting the "Americanisation" of the world and spreading U.S. imperialism. Yet, in the last decade, brands have taken a more explicit role as geopolitical actors.
My colleagues Olivier Sibai, Achilleas Boukis and I extensively studied 'brand activism,' previously defined as a strategy that requires brands to position themselves as "moral actors promoting social, legal, business, economic, political, and environmental reform through their communication and practice." With nearly two-thirds of consumers expecting brands to work to improve the state of society, even mainstream brands now have to show some degree of activism.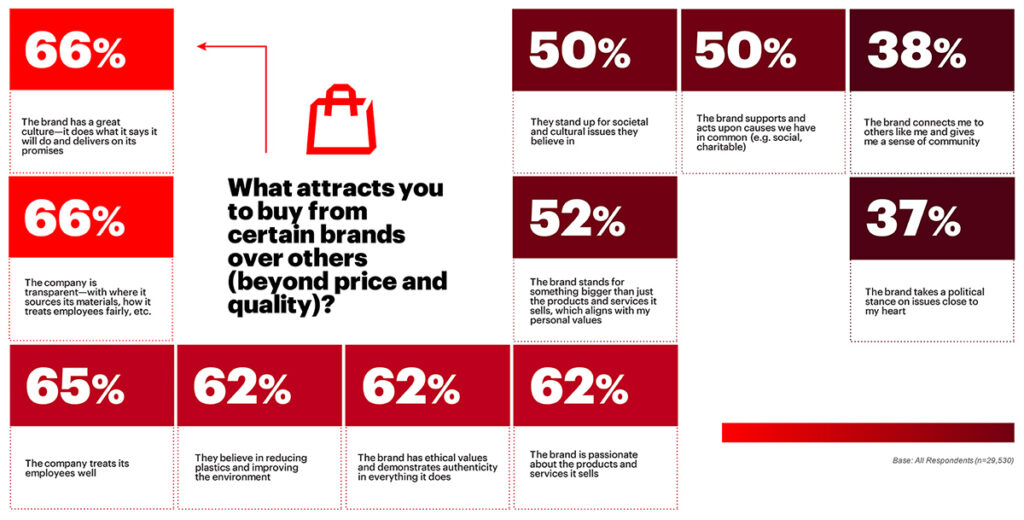 The dilemma for brands is to design strategies delineating the type and scope of issues on which to take a stance, and the extent of their involvement in societal issues. This is usually carefully planned over time to balance many diverging interests from consumer to profitability pressures.
Yet, when a geopolitical crisis arises, such as the war between Russia and Ukraine, brands are suddenly under the heightened attention of media and public opinion. Their careful strategies are disrupted and they must choose quickly what to do.
How have brands reacted to Russia's invasion of Ukraine?
This is what I looked at in the impact paper I wrote as part of ESCP Business School's "Geopolitics and Global Business Impact" series. The war has yet to subside causing a growing death toll, over 8 million refugees, and extensive material damage.
With the escalation of the conflict, Western consumers started putting pressure on brands to take a stance. By mid-March, European and U.S. news media had built a public opinion consensus that brands must cut all ties with Russia. By early June, almost 1,000 companies had decreased or ceased operations in Russia.
Brands' reactions differed:
Some reacted immediately and strongly (e.g., Irish professional services group Accenture),
others tried to find an in-between solution (e.g., FMCG company P&G reduced its product portfolio to necessities and suspended investments),
bowed under pressure (e.g., fast-food chain McDonald's ended up temporarily closing its stores following the BoycottMcDonalds campaign),
found themselves unable to act (e.g., French hotel chain Accor is tied to its Russian activities due to long-lasting franchising agreements),
or chose not to react (e.g., French retail chain Auchan is conducting its business as usual in Russia).
Finding the right response reveals the complex stakes at play: the seemingly consensual media reporting hides a much more complex decision-making process, but also the possibility to justify different paths of action with the right framing.
How brands should react to geopolitical crises
Choosing a brand response to a geopolitical crisis requires a complex decision-making process relying on an analysis of:
The brand's identity, values, and mission: To what extent is societal commitment central to the brand positioning and practices? What is the scope of the brand's activist activities? How has this evolved over time?
The target consumers' values and motivations: To what extent is societal commitment important to target consumers? To what degree does consumers' societal commitment translate into their purchases?
The competitive environment: What are the industry standards in terms of societal commitment? How is the brand situated in relation to its closest competitors?
The brand must choose how it wants to be positioned in relation to its resources and capacities, in response to consumers' motivations, and in comparison to competitors. My colleagues and I offer four possible pathways determined by the brand's positioning:
The activist brand, which usually acts proactively on a wide range of societal issues, with consistent communications and policies throughout its value chain: Enact an extreme reaction (e.g., cut all ties with invading country) and announce it within the first 24 hours of the crisis. This path needs the most reactivity.
The enlightened brand, which usually acts when issues are closely related to its sector of activities: Identify the scope of the crisis to determine the scope and timing of its reaction depending on the sector of activity, the type of crisis, etc. This past needs the most balance.
The mainstream brand, which usually limits its actions to corporate social responsibility: It should adopt a bandwagon approach: Act lightly (e.g., condemning communication, charity work, risk mitigation) and only once a consensus is built. This path still requires acting before public condemnation strengthens.
The non-socially engaged brand, which usually limits its societal actions to the legal necessities: Adopt a wait-and-see approach and stick to business-as-usual. This path protects short-term economic interest but risks long-term damage to brand equity.
In our contemporary world, in which brands are faced with strong pressures to react quickly to societal issues, it is crucial to plan in advance the scope and timing of such reactions, as delayed answers to crises carry significant brand equity risks.