Artificial intelligence, or AI, is everywhere in our daily lives: smartphones, tablets and computers, and also in our offices and homes with the widespread use of home automation and virtual assistants. AI works 365 days a year and twenty-four hours a day. It is behind Amazon, Netflix, Office 365, Oracle, Adobe and many business solutions.
Some roles within companies, especially those requiring human interaction, seemed less impacted by artificial intelligence, with management positions being the most prominent example.
Delegating managerial skills such as decision-making to a machine appears complex. However, numerous algorithms are being developed in this area to offer predictive and prescriptive solutions.
To achieve a deeper understanding of how AI is impacting society, business and how we make decisions, we spoke with Yannick Meiller, co-scientific director of the Online Executive Master in Digital Transformation and professor of Digital Transformation and Operations Management, whose white paper you can download below.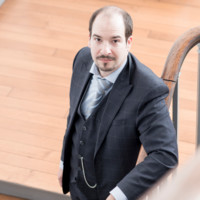 Yannick Meiller

,
Associate Professor of Information & Operations Management at ESCP Business School
How is artificial intelligence perceived in the business world?
As Professor Yannick Meiller states, "In the business world, AI is not seen as a technical subject. It is above all a business subject".
In other words, AI is an important tool that, when used appropriately, can benefit companies and invent meaningful solutions resulting in agile and effective organisations. However, to reach this goal, there needs to be synergy between the two main categories of employees found in most companies: data-oriented professionals (data scientist, data architect, data miner, data engineer, etc.) and department-specific professionals (finance, marketing, sales, production, human resources, etc.).
Getting what you need from the AI comes down to asking the right questions and identifying the best data to answer those questions.
Should we always trust artificial intelligence?
According to Yannick Meiller, trust in AI depends on whether you can trust the data. In referencing a famous example where Google Photos AI did not identify people of colour as human, he explained, "machines make decisions based on data. Bias in the data amounts to institutionalising the problem, whether it's a question of racism, sexism or the market if your data only covers a non-representative segment of your customers".
Can artificial intelligence make decisions for us or help us make good decisions?
AI will reveal behaviours or tendencies that humans might have difficulty observing in many cases. A form of AI that can support managers in decision-making is also the best-known and dates back to the 1960s and 1970s: machine learning.
Yannick Meiller describes machine learning as a "highly advanced statistical system" that uses data to find patterns and search for links and correlations.
Using past observations, we can therefore shape the future. And the more abundant, diverse, reliable and regularly-updated the data is, the more accurate and useful the experience will be.
As Yannick Meiller points out, the quality of the decisions shaping this theoretical future is only as good as the data available. However, assessing the quality of the data that informs a given algorithm can be an impossible task due to the oftentimes sensitive nature of these formulas.
Much like Coca Cola's famous recipe, an algorithm can be the key to a company's success, and its proprietary nature is in direct conflict with transparency.
Make artificial intelligence your ally
The value creation that can come from AI for both large and small companies depends on identifying a need, collecting and analysing meaningful data, and applying that analysis to make the right decisions for an organisation. With its unparalleled ability to process large volumes of data and with significant computing power, AI is now able to guide managers and professionals towards smarter action plans and better resource allocation with minimal human intervention. AI is neither a friend nor a foe. It is a system created and controlled by humans, which aims to anticipate the future, make the right decisions, and help save time and streamline resources.
Learn more about how to leverage artificial intelligence for managerial decision-making by downloading the ESCP Executive Education white paper with Prof. Yannick Meiller.
Download The ESCP Executive Education White Paper
Artificial intelligence in
managerial decision-making
License and Republishing
The Choice articles may be republished in accordance with the Creative Commons Attribution-NoDerivatives 4.0 International Public License, and in accordance with our
Term of use
.
The Choice - Republishing rules
We publish under a Creative Commons license with the following characteristics Attribution/Sharealike.
You may not make any changes to the articles

published on our site, except for dates, locations (according to the news, if necessary), and your editorial policy. The content must be reproduced and represented by the licensee as published by The Choice, without any cuts, additions, insertions, reductions, alterations or any other modifications.If changes are planned in the text, they must be made in agreement with the author before publication.

Please make sure to cite the authors of the articles

, ideally at the beginning of your republication.

It is mandatory to cite The Choice

and include a link to its homepage or the URL of thearticle. Insertion of The Choice's logo is highly recommended.

The sale of our articles in a separate way, in their entirety or in extracts, is not allowed

, but you can publish them on pages including advertisements.

Please request permission before republishing any of the images or pictures contained in our articles.

Some of them are not available for republishing without authorization and payment. Please check the terms available in the image caption. However, it is possible to remove images or pictures used by The Choice or replace them with your own.

Systematic and/or complete republication

of the articles and content available on The Choice is prohibited.

Republishing The Choice articles on a site whose access is entirely available by payment or by subscription

is prohibited.

For websites where access to digital content is restricted by a paywall, republication of The Choice articles, in their entirety, must be on the open access portion of those sites.

The Choice reserves the right to enter into separate written agreements

for the republication of its articles, under the non-exclusive Creative Commons licenses and with the permission of the authors. Please contact The Choice if you are interested at contact@the-choice.org.
Individual cases
Extracts: It is recommended that after republishing the first few lines or a paragraph of an article, you indicate "The entire article is available on ESCP's media, The Choice" with a link to the article.
Citations: Citations of articles written by authors from The Choice should include a link to the URL of the authors' article.
Translations: Translations may be considered modifications under The Choice's Creative Commons license, therefore these are not permitted without the approval of the article's author.
Modifications: Modifications are not permitted under the Creative Commons license of The Choice. However, authors may be contacted for authorization, prior to any publication, where a modification is planned. Without express consent, The Choice is not bound by any changes made to its content when republished.
Authorized connections / copyright assignment forms: Their use is not necessary as long as the republishing rules of this article are respected.
Print: The Choice articles can be republished according to the rules mentioned above, without the need to include the view counter and links in a printed version.
If you choose this option, please send an image of the republished article to The Choice team so that the author can review it.
Podcasts and videos: Videos and podcasts whose copyrights belong to The Choice are also under a Creative Commons license. Therefore, the same republishing rules apply to them.