As I attended the World Economic Forum in Davos, this past month, a group of more than a hundred CEOs got together, and committed to making their companies "net-zero" on carbon emissions. That, I thought, was an amazing outcome. Yet what really stuck with me from spending a week with the richest and most powerful people in the world was something else: an observation on kindness. Being kind is not a trait that comes and goes with your role or status, I saw. It is simply something you decide to be – or not.

I noticed it at first at an event Fortune, my employer, co-organized that week. I was one of the moderators of the night, and I was joined by the CEO of Fortune, the chair of Imagine, and the CEOs of Syngenta, Yara, and Cargill, as well as some more junior colleagues.
Thus, there was quite a bit of mix of hierarchy in the planning and execution of our event. But what I appreciated, is that no one let that get in the way of being kind to another, and no one let their ego get in the way of getting things done.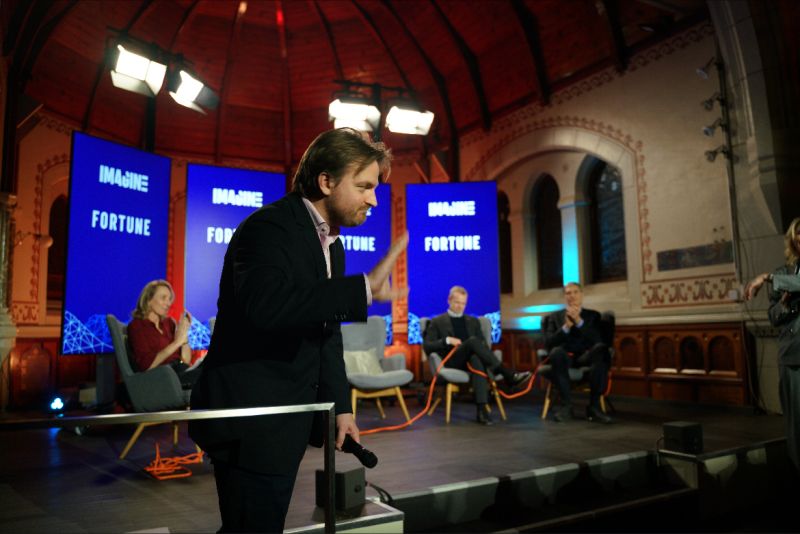 Someone in charge of logistics called me "the mic runner" when they saw me holding a microphone next to the stage. I didn't mind. What's being wrong with being the mic runner, anyway, right? And when the CEO of Syngenta came off stage, we bonded over wearing the same $100 hiking shoes.
Being kind is a choice, wherever you are in the hierarchy.
During the rest of the week, I met everyone from Nestlé CEO Mark Schneider to Norway's sovereign wealth fund CEO Nicolai Tangen, and from the policemen checking bags to the baristas serving excellent "cafés crème" at C3 AI's pavilion.
And as the week wore on, it started to dawn on me: being kind is a choice, wherever you are in the hierarchy.

I coincidentally met one CEO of a major company in the hallway, who stopped for half an hour to talk about the Calvinist roots of his company, the architecture of his new HQ, and everything else that was on his mind, or that I asked him about. He smiled and laughed, leaned in and listened.
Then I met another similar CEO, who quickly dismissed me and looked the other way.
It takes all sorts to make a (business) world
I met former colleagues from various companies I worked for in the past, who wanted to know all about my journey since leaving my job at their organization. They encouraged me, congratulated me, wished me well. There were dozens of those reactions and interactions, and it meant so much to me.
There were also a few who looked at me with jealousy or disdain.
I saw so many fellow journalists, who each have accomplished so much at their respective organizations, but who also appreciated the work others did at Davos and in our daily lives, and who made time to exchange notes, and express mutual appreciation.
Then there were two or three who rather talked to more important people, and quickly hurried on.
All those interactions made me realize something fundamental, that I didn't understand a decade ago.
When I meet rude people in high positions now, I realize it was always them, never me.
Back when I started out as a journalist and professional, I was over the moon when I met a kind top professional, someone who accomplished so much and still made time for me and met me where I was. I considered them exceptions to the rule, and cherished those contacts forever.

But when someone at the peak of their power dismissed me at the time, I thought it must be because of me — my lack of experience, my insignificance. It hurt of course to be ignored, but I blamed it on myself, for not being interesting or relevant enough.

Ten years on, I'm no longer insignificant, or uncertain about what value I can bring. And when I meet rude people in high positions now, I realize it was always them, never me.

Being kind is a choice. Be kind. It means a lot to everyone you talk to. And it makes you a happier person, too.