On The Choice, we, obviously, talk about making choices. These can be radical choices where you have to give up parts of your life. But you can sometimes reconcile several lives by combining choices. That is the approach our guest in this article likes to adopt.
A multifaceted career with a single underlying theme
Charles Carmignac has been a musician (in the band Moriarty), a journalist, an entrepreneur, a riddle-writer, the director of an art foundation and many other things. But for him, these are not separate pursuits. A central theme runs through them all.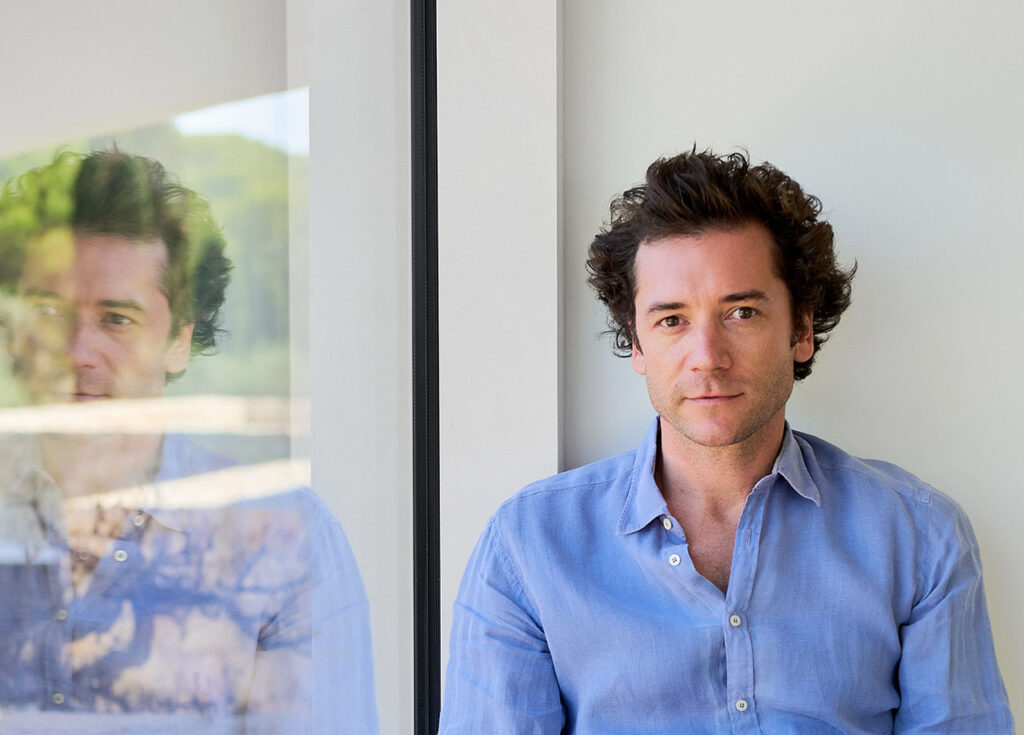 "The common ground that underpins all these activities is my storytelling. When I was a journalist, I'd tell stories through investigations; when I was a musician, through song lyrics; when I was a riddle-writer, through multi-layered tales. Sometimes these activities would overlap. For example, when I played with Moriarty, we'd slip riddles into our albums."
Charles does not talk about new directions or career changes in his life. Instead, he talks about entanglements. "For example, this year, as director of the Fondation Carmignac for contemporary art, I composed music for an art installation with musicians from Moriarty.
I also wrote a riddle for discovering the island of Porquerolles. At the same time, I follow the foundation's work in photojournalism very closely. My different past experiences don't fall into obscurity. They enrich my work today."
Charles's curiosity has led him down roads less travelled, but he does not regret this. And what might have looked like a weakness has even become a strength.
"My father used to criticise me for flitting from one pursuit to another. But now, at the Fondation Carmignac, he's given me the chance to spread myself thinly but effectively, as he'd say. In my job as the foundation's director, I have to tackle subjects as varied as management, finance, business, architecture, botany, contemporary art, live performances and journalism."
Charles would have liked to devote himself to a single discipline when he was a child in order to master it. "I'm good in my initial drive in an activity, but then I stagnate. I play the guitar and a few other instruments well. I've played a lot of tennis, as well as other sports and games.
But looking back, I'd have liked to have focused exclusively on practising and mastering one art form in particular. Still, diversity is doubtless what best reflects my nature. And I'm glad my studies have made me versatile." Yet he remains open to new paths.
As a teenager, I wanted to study architecture and be a DJ. But it's not too late for that. Anything is possible. Today, you can have a thousand lives and several avatars.
The Carmignac foundation for contemporary art
Charles's father, Édouard Carmignac, has entrusted him with the task of heading the family foundation – Fondation Carmignac – that Édouard created in 2000. The foundation is organised into two main areas: a contemporary art collection and a photojournalism award.
Since June 2018, the foundation has run Villa Carmignac – a Porquerolles island villa open to the public that houses a display of contemporary artworks. It features a garden dotted with art installations specially made for the site and offers a programme of cultural events.
For Charles, working in a family organisation suits his tastes. He accepted his father's offer and the prospect of exploring his relationship with him – and with his sister, who heads the London office.
"This handover suggests respect and long-term commitment as we're working on a project that our parents have passed on to us – and that we might pass on to our own children one day. That creates stability."
The downside is that decisions are sometimes emotionally influenced. But you find that in firms founded by groups of friends too. "Emotional influence gets into your mind – for better or for worse."
Still, this environment fits Charles's idea of management and matches the sum of his experiences. "The fact I've played music for fifteen years helps me in my work. First, you've got to be relaxed, have good listening skills and keep an overall vision in mind – just like when you insert your notes in a piece of music." When he designed a circuit in one of the foundation's gardens, he wrote a music score for the project with the bass guitarist of the band Moriarty. This helped the different participants get in tune with the project's spirit and work together better.
The Fondation Carmignac was affected by the Covid pandemic like so many cultural institutions were. But the foundation's particularities helped it adapt quite easily as visits were already limited to fifty people maximum per half-hour with prior booking required. An exhibition even took place remotely and working from home proved successful.
An island is a mental space by nature, a place for introspection. I love switching between the electricity of Paris and the natural harmony of this island.
Porquerolles island: a refuge and testing ground
The foundation's distinctive location – on the island of Porquerolles off France's south-eastern coast – plays an important role too. "An island is a mental space by nature, a place for introspection. I love switching between the electricity of Paris and the natural harmony of this island. That's why we try to get artists to come – in that way, the foundation isn't just an exhibition venue but a place of creative production too. They can draw inspiration from Porquerolles island and create works from the island's raw matter."
What also makes Porquerolles special is that the island is well-conserved and protected. It is an outstanding spot that includes a botanical conservation centre and a seed bank. "Here you get a clearer sense that you exist alongside other forms of life. Certain species of birds also tolerate us, like the yellow-legged gull in some places. The site's purpose is to connect people to nature and nature to them."
When the villa project began ten years ago, Charles had performed his thousandth concert with Moriarty. Devoting himself to the job on Porquerolles related to new experiences he had begun. That was why he naturally threw himself into the project seven years ago.
The ecological constraints of the island – a national park – play a big role at Villa Carmignac, which incorporates these subjects into its exhibition themes (the Amazon rainforest, the Arctic, etc.) and even into its processes. The issues of water, energy and waste are important here and are addressed through the SMILO (Small Islands Organisation) project – a federation that helps islands smaller than 150km² work towards more sustainable management of their environment.
"There are exchanges about experimental best practices applied on little islands – and, with these, the idea that what works on an island could be applied on the mainland. That goes hand in hand with my commitment."
An emerging future
Charles has thought about his future, especially as part of the Fondation Carmignac. "There are many paths for development; we could open new sites, go underwater, offer night-time experiences and improve our environmental impact. On an island, your mind is more open to new emotions, to the emergence of new visions, new thoughts…"
So fresh projects will doubtless take root in Charles's mind. And he will be able to relate them to his past experiences fruitfully.
License and Republishing
The Choice articles may be republished in accordance with the Creative Commons Attribution-NoDerivatives 4.0 International Public License, and in accordance with our
Term of use
.
The Choice - Republishing rules
We publish under a Creative Commons license with the following characteristics Attribution/Sharealike.
You may not make any changes to the articles

published on our site, except for dates, locations (according to the news, if necessary), and your editorial policy. The content must be reproduced and represented by the licensee as published by The Choice, without any cuts, additions, insertions, reductions, alterations or any other modifications.If changes are planned in the text, they must be made in agreement with the author before publication.

Please make sure to cite the authors of the articles

, ideally at the beginning of your republication.

It is mandatory to cite The Choice

and include a link to its homepage or the URL of thearticle. Insertion of The Choice's logo is highly recommended.

The sale of our articles in a separate way, in their entirety or in extracts, is not allowed

, but you can publish them on pages including advertisements.

Please request permission before republishing any of the images or pictures contained in our articles.

Some of them are not available for republishing without authorization and payment. Please check the terms available in the image caption. However, it is possible to remove images or pictures used by The Choice or replace them with your own.

Systematic and/or complete republication

of the articles and content available on The Choice is prohibited.

Republishing The Choice articles on a site whose access is entirely available by payment or by subscription

is prohibited.

For websites where access to digital content is restricted by a paywall, republication of The Choice articles, in their entirety, must be on the open access portion of those sites.

The Choice reserves the right to enter into separate written agreements

for the republication of its articles, under the non-exclusive Creative Commons licenses and with the permission of the authors. Please contact The Choice if you are interested at contact@the-choice.org.
Individual cases
Extracts: It is recommended that after republishing the first few lines or a paragraph of an article, you indicate "The entire article is available on ESCP's media, The Choice" with a link to the article.
Citations: Citations of articles written by authors from The Choice should include a link to the URL of the authors' article.
Translations: Translations may be considered modifications under The Choice's Creative Commons license, therefore these are not permitted without the approval of the article's author.
Modifications: Modifications are not permitted under the Creative Commons license of The Choice. However, authors may be contacted for authorization, prior to any publication, where a modification is planned. Without express consent, The Choice is not bound by any changes made to its content when republished.
Authorized connections / copyright assignment forms: Their use is not necessary as long as the republishing rules of this article are respected.
Print: The Choice articles can be republished according to the rules mentioned above, without the need to include the view counter and links in a printed version.
If you choose this option, please send an image of the republished article to The Choice team so that the author can review it.
Podcasts and videos: Videos and podcasts whose copyrights belong to The Choice are also under a Creative Commons license. Therefore, the same republishing rules apply to them.