Working on Customer Experience (CX) in the B2B field is not as common as with B2C. And in some industries, like aerospace, it is quite new. At the very beginning of 2020, I had the opportunity to work with leaders of the aerospace industry in North America to address the issue of how to differentiate from the competition through customer experience.
80% of customers (Business Buyers) say the experience a company provides is as important as its products and services.

Salesforce Research, Customer Expectations Hit All-Time Highs
Putting the customer at the center of a company's focus is a difficult exercise, which tends to lead to profound transformations. And this is the case for B2C as well as B2B companies, in almost any industry. If you are currently working in the B2B industry, you are probably asking yourself how to improve revenues and reduce costs by optimizing customer satisfaction. You are likely hesitating: "how different is it to deal with customer experience when my client is a company rather than an individual?".
What is so different between B2C and B2B?
Nowadays, tracking your Amazon parcel online or tracking the delivery of an industrial machine is expected to be equally simple.
Customer experience in B2B (service) contexts is unique given the importance of interpersonal interactions. Most customer encounters are not one-off experiences but part of a broader endeavor to build and maintain long-term relationships.
In addition, the B2B purchasing process is much more complex and buying cycles are longer than in B2C settings. B2B buyers are usually following a formal buying process and purchases are tied to budget cycles and important deadlines. Among the specific stages of B2B customer journey, which are not often found in B2C, is contract negotiations.
That said, B2B customers, like B2C, are seeking a high-quality customer experience. Managers are pushed to find quick and "tailor-made" solutions for their company's business and operation issues.
Trials and tribulations in the customer journey
Defining the overall customer experience strategy in the B2B industry must first involve working on customer journey (CJ) optimization.
82% of business buyers want the same experience as when they're buying for themselves.

Salesforce Research, Customer Expectations Hit All-Time Highs
When we talk to leaders about investments in their CX strategy (IT tools, employee training, etc.), they usually ask about the return on investment and the correlation between the costs of optimizing customer journeys and customer satisfaction.
As an answer, I often highlight the quality of experience the organization creates for its customers and how customer perception impacts the business. Sometimes the WoW effect* is the best solution. This occurs when customers are super satisfied.
On the other hand, the pain zone is "where" customers are very disappointed, or worse: when they are absolutely dissatisfied with the experience. This is a serious problem for a brand and can impact the long, medium and short-term. On the long-term, these impressions will be shared with other current and potential customers, which you cannot control. As a result, the company's reputation – especially online – will be badly affected. In the medium term, their negative experience will impact the customer's loyalty and, of course, the revenues you get from them as they will probably not re-order anything from you.
In the short term, customers in the pain zone will ask for reimbursement, discounts, and may eventually return their product, etc. And this is true for both a million-dollar company and any individual purchasing for his/her family.
I've mapped out these customer experience zones in the graph below.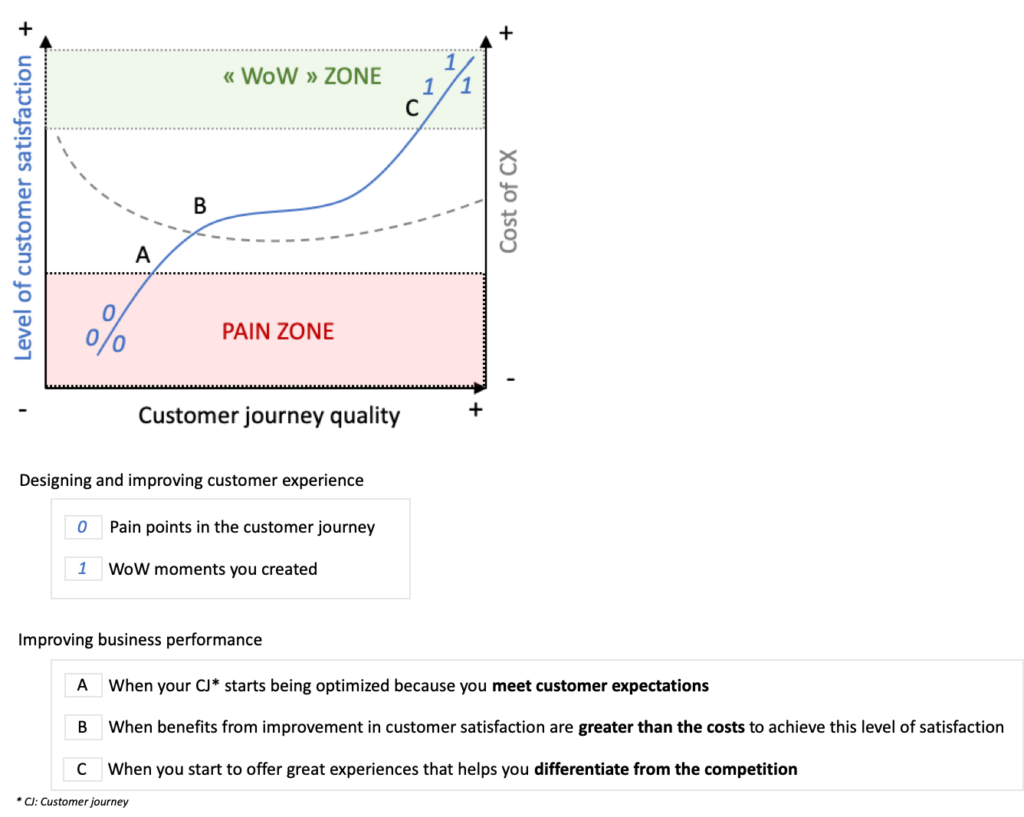 What might a WoW experience look like? Perhaps it is a customer who buys a car and is surprised to find that a bottle of Champagne comes as a gift (B2C). Or that engine manufacturer who sent a maintenance team to the Gobi Desert in record time to fix an aircraft so that it could transport a stroke victim to a hospital (B2B).
Leaving the "pain zone" and starting to improve your customer journey
Once you've achieved "break-even" or point A, you've already optimized your customer journey in order to meet customers' basic expectations. You should see an increase in satisfaction level in the feedback they give you. But don't do only spot optimizations on your CJ. This is a permanent responsibility because your customers' needs are infinite and they evolve over time.
In phase 2, if customer satisfaction represents a cost for the company due to all the efforts you have to make to meet expectations, you should soon be able to see a positive return on investment for the actions you took.
Finally, in the third phase, this is where you make the WoW moment happen, by differentiating from your competitors and ensuring that your client is very happy with your brand. And that would surely affect your customers' motivation, boost turnover and reduce operational costs. As an example, one of my clients made a significant investment into its customer service with a brand new chatbot, an optimized customer portal interface and a training program for their customer representatives. Brand image is already showing improvement.
Now it's time to create the types of experiences that your corporate customers are expecting and some which will positively surprise them.
Not sure where to start for your business? In order to establish a high quality of customer experience, any company should tap into the employees who are directly involved in the customer relationship. A good Employee eXperience (EX) usually generate good Customer eXperiences (CX).
Download the full report to dig into the details of the B2B customer experience.
---
Feature photo by Austin Distel on Unsplash.
License and Republishing
The Choice articles may be republished in accordance with the Creative Commons Attribution-NoDerivatives 4.0 International Public License, and in accordance with our
Term of use
.
The Choice - Republishing rules
We publish under a Creative Commons license with the following characteristics Attribution/Sharealike.
You may not make any changes to the articles

published on our site, except for dates, locations (according to the news, if necessary), and your editorial policy. The content must be reproduced and represented by the licensee as published by The Choice, without any cuts, additions, insertions, reductions, alterations or any other modifications.If changes are planned in the text, they must be made in agreement with the author before publication.

Please make sure to cite the authors of the articles

, ideally at the beginning of your republication.

It is mandatory to cite The Choice

and include a link to its homepage or the URL of thearticle. Insertion of The Choice's logo is highly recommended.

The sale of our articles in a separate way, in their entirety or in extracts, is not allowed

, but you can publish them on pages including advertisements.

Please request permission before republishing any of the images or pictures contained in our articles.

Some of them are not available for republishing without authorization and payment. Please check the terms available in the image caption. However, it is possible to remove images or pictures used by The Choice or replace them with your own.

Systematic and/or complete republication

of the articles and content available on The Choice is prohibited.

Republishing The Choice articles on a site whose access is entirely available by payment or by subscription

is prohibited.

For websites where access to digital content is restricted by a paywall, republication of The Choice articles, in their entirety, must be on the open access portion of those sites.

The Choice reserves the right to enter into separate written agreements

for the republication of its articles, under the non-exclusive Creative Commons licenses and with the permission of the authors. Please contact The Choice if you are interested at contact@the-choice.org.
Individual cases
Extracts: It is recommended that after republishing the first few lines or a paragraph of an article, you indicate "The entire article is available on ESCP's media, The Choice" with a link to the article.
Citations: Citations of articles written by authors from The Choice should include a link to the URL of the authors' article.
Translations: Translations may be considered modifications under The Choice's Creative Commons license, therefore these are not permitted without the approval of the article's author.
Modifications: Modifications are not permitted under the Creative Commons license of The Choice. However, authors may be contacted for authorization, prior to any publication, where a modification is planned. Without express consent, The Choice is not bound by any changes made to its content when republished.
Authorized connections / copyright assignment forms: Their use is not necessary as long as the republishing rules of this article are respected.
Print: The Choice articles can be republished according to the rules mentioned above, without the need to include the view counter and links in a printed version.
If you choose this option, please send an image of the republished article to The Choice team so that the author can review it.
Podcasts and videos: Videos and podcasts whose copyrights belong to The Choice are also under a Creative Commons license. Therefore, the same republishing rules apply to them.