As is often the case with business ventures, the lightbulb moment for Hugo Bazin was sparked by a personal challenge. "My business associate [Simon Robain] and I have family in the French regions of Burgundy and Charente-Maritime respectively," Bazin explains. "We know all about the headache of getting around the country when you don't have a car and you don't live in one of the five or six big cities."
So in 2016, while in the same 'Innovation and Entrepreneurship' master's programme at ESCP Business School, the two friends had the idea of developing a reservation platform for travel, also known as Tictactrip.
The platform would allow travellers to optimise their journey by helping users plan their trip, make a reservation and find the most attractive price. Users would also be able to limit the carbon emissions of their journey with one of the site's key features: route suggestions (by train, bus and carpooling) that avoid detours, and therefore any unnecessary mileage.
For example, when traveling from west to east across France, many train routes will require travellers to pass through Paris, often a several hundred kilometre detour. However, with Tictactrip, users would be able to combine transportation methods, such as train and bus, to reach their destination via the most direct route.
We are absolutely convinced of the need to better manage our carbon footprint,

says Hugo Bazin
This shared belief has ensured that sustainability remains at the heart of Tictactrip.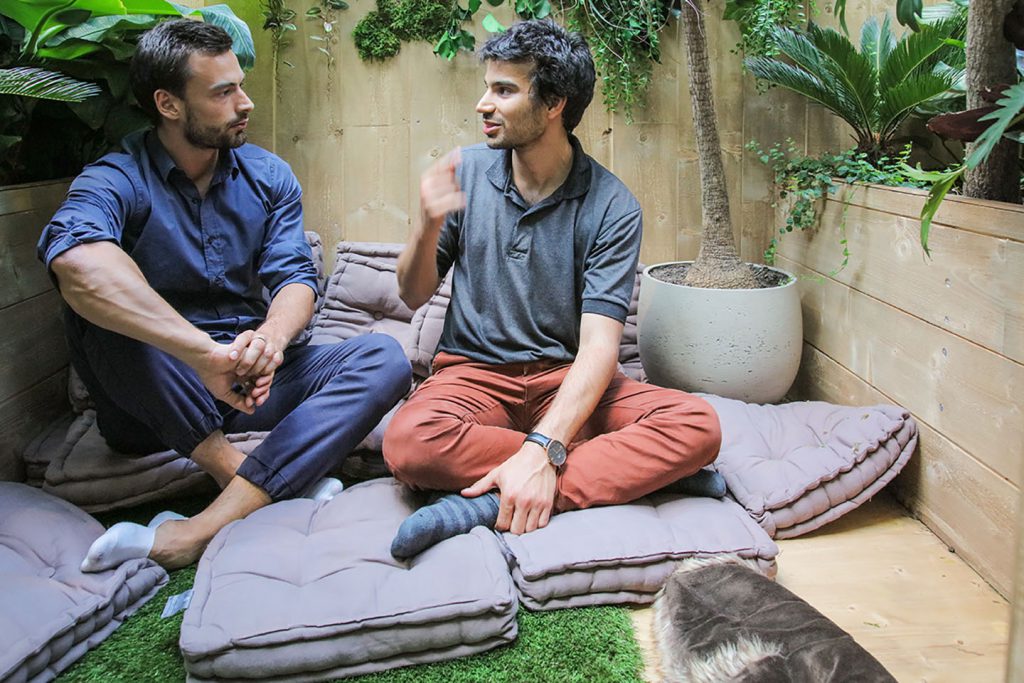 After the big idea, comes credibility
Put like this, building your own sustainable travel solution may sound easy, but as Bazin explains, "At the start, the big challenge is credibility." When he began this adventure, Bazin was only 24 years old, having earned a bachelor's degree in business before completing his master's at ESCP. Given their age and experience, the two co-founders quickly realised that their success depended on seizing every opportunity that came their way.
And in the entrepreneurship world, this means accelerators and incubators. From start-up competitions for students and recent graduates, such as France's Petit Poucet and the Pépite Challenge, to accelerator programmes like the Porte de Champerret unit of the CCI bank, Blue Factory (the ESCP incubator) and more, they received both recognition and accreditation helping them build connections with France's top business leaders and entrepreneurs.
While the nation-wide lockdown earlier this year in response to the Covid-19 crisis put business development on hold for many, that did not stop Bazin and Robain from once again seizing the moment and participating in the Techstars accelerator programme in Portugal.
They were three very intensive months, when we focused on the company's vision, our users and finalising the product,

says Hugo Bazin.
As their business evolves, recruiting the right people for the Tictactrip team has become another source of strength and credibility. "They are the reason Tictactrip operates and grows every day. They represent the company, share our vision and make it successful. Hiring the best people is (part of) the key to success."
Knowing when to take advice

(and when not to)
Sometimes one of the biggest choices to make when growing a business is knowing when to listen to advice, or not. For Bazin, this was often a daily choice he had to make, especially at the beginning. That's why he advises future entrepreneurs to "find the right balance between advice that is often too cautious from experts in your field, and your own personal intuition."
And he warns: "Telling everyone that you are going to become 'the Uber of this' or 'the Deliveroo of that' has already been done to death. Test your product and you'll know if it meets the users' needs". The only way to make an impact on market movers and shakers is to believe in the value-added you can offer, show why you are different from the others, and to have a sustainable project, of course.
Bazin and Robain's shared vision and unrelenting focus on growing their solution has proven its worth. Today, Tictactrip has a team of about a dozen employees while the website is attracting between 150K to 200K visitors a month.
Partnerships have been signed with around 50 transportation companies in France and Europe who use the platform to reach new travellers on intermodal routes while paying a commission to Tictactrip for each journey that uses their service.
Thanks to this business model, the website now provides connections to over 6,000 towns and cities in Europe, and so far, 95% of its customers are French. That said, the company is already looking to the future.
The dream is to build up enough knowledge to one day launch their own Tictactrip travel service, although Bazin knows the importance of taking everything one step at a time.