What is the first thought that comes into your mind when you hear the words "video gaming"? Maybe you think of Pong, a table-tennis-themed game released in the 1970s that I remember having played as a kid on a black-and-white TV in the basement of my aunt's house. Or maybe you remember PacMan, one of the most successful arcade games that cost $100,000 to develop in 1982 (about $300K in today's money). Or you may think of CandyCrush, a highly successful mobile game that created a whole category of what is referred to as "match 3" games.
Today, the gaming industry is twice as large as video-on-demand and over ten times as large as music streaming.
Whatever you think of, you probably believe video gaming is still a niche activity mostly for children and teenagers, which cannot rival other forms of digital entertainment like video-on-demand (e.g., Netflix, Disney+) or music streaming (e.g., Spotify). Nothing could be further from the truth. Today, the gaming industry is twice as large as video-on-demand and over ten times as large as music streaming. It has given rise to an entirely new category of websites dealing with video game streaming (e.g., Twitch), to industries like e-sports (which come with their own teams of athletes, merchandising, and training programmes), and to a support network of communication platforms (e.g., Discord, Reddit).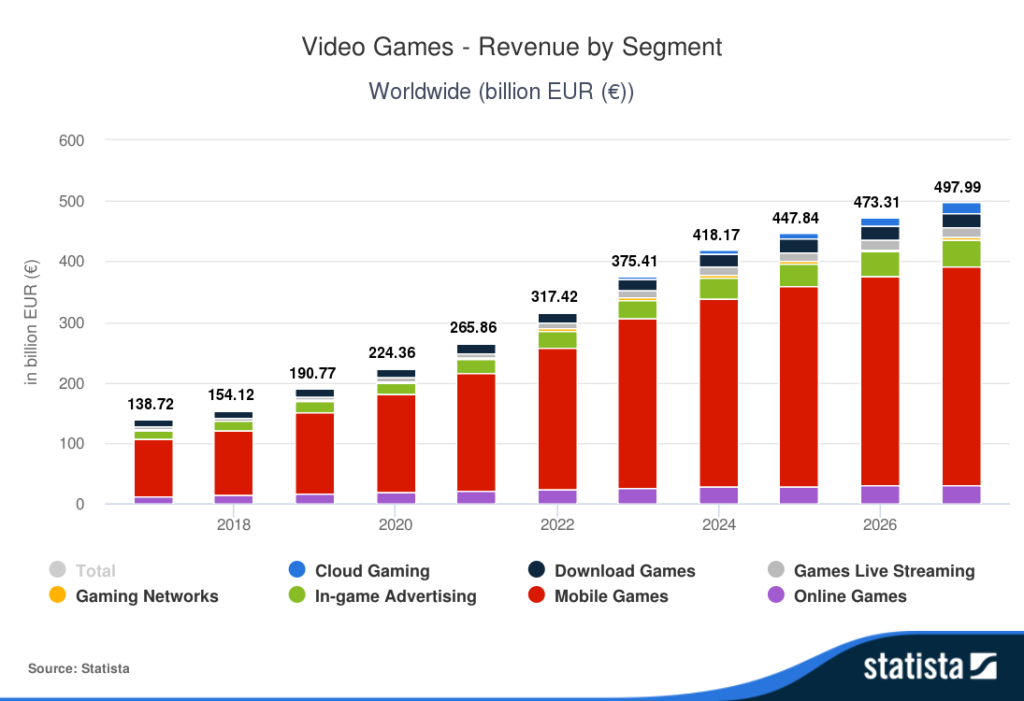 The special report recently published in The Economist is an excellent introduction for all those who want to familiarize themselves with this industry. I am excited to see that the topic is finally getting the attention it deserves.
Video games are an inexhaustible mine (for my craft)
Personally, I have been dealing with questions related to video games for a few years and my research work with Andreas Kaplan showed as early as 2009 that some virtual worlds, such as Second Life, are closely related to video games. This could last a lifetime as they are an inexhaustible mine (for my craft).
Specifically, my research looks into how brands can use video games as a marketing communication channel; how to understand and measure consumer behaviour and engagement during gameplay; how streamers can be used for influencer marketing (and how they differ from traditional social media influencers); how being a professional video game streamer impacts mental health (especially given that many of them are teenagers); how video games can be seen as an example of disruptive innovations; how the video gaming ecosystem relates to the metaverse; how companies can make use of the abundance of data generated by video games; and how to understand the complex world of e-sports.
Feel free to reach out if you want to understand more about these topics. And now – let the games begin!
---

This post gives the views of its author, not the position of ESCP Business School.
License and Republishing
The Choice articles may be republished in accordance with the Creative Commons Attribution-NoDerivatives 4.0 International Public License, and in accordance with our
Term of use
.
The Choice - Republishing rules
We publish under a Creative Commons license with the following characteristics Attribution/Sharealike.
You may not make any changes to the articles

published on our site, except for dates, locations (according to the news, if necessary), and your editorial policy. The content must be reproduced and represented by the licensee as published by The Choice, without any cuts, additions, insertions, reductions, alterations or any other modifications.If changes are planned in the text, they must be made in agreement with the author before publication.

Please make sure to cite the authors of the articles

, ideally at the beginning of your republication.

It is mandatory to cite The Choice

and include a link to its homepage or the URL of thearticle. Insertion of The Choice's logo is highly recommended.

The sale of our articles in a separate way, in their entirety or in extracts, is not allowed

, but you can publish them on pages including advertisements.

Please request permission before republishing any of the images or pictures contained in our articles.

Some of them are not available for republishing without authorization and payment. Please check the terms available in the image caption. However, it is possible to remove images or pictures used by The Choice or replace them with your own.

Systematic and/or complete republication

of the articles and content available on The Choice is prohibited.

Republishing The Choice articles on a site whose access is entirely available by payment or by subscription

is prohibited.

For websites where access to digital content is restricted by a paywall, republication of The Choice articles, in their entirety, must be on the open access portion of those sites.

The Choice reserves the right to enter into separate written agreements

for the republication of its articles, under the non-exclusive Creative Commons licenses and with the permission of the authors. Please contact The Choice if you are interested at contact@the-choice.org.
Individual cases
Extracts: It is recommended that after republishing the first few lines or a paragraph of an article, you indicate "The entire article is available on ESCP's media, The Choice" with a link to the article.
Citations: Citations of articles written by authors from The Choice should include a link to the URL of the authors' article.
Translations: Translations may be considered modifications under The Choice's Creative Commons license, therefore these are not permitted without the approval of the article's author.
Modifications: Modifications are not permitted under the Creative Commons license of The Choice. However, authors may be contacted for authorization, prior to any publication, where a modification is planned. Without express consent, The Choice is not bound by any changes made to its content when republished.
Authorized connections / copyright assignment forms: Their use is not necessary as long as the republishing rules of this article are respected.
Print: The Choice articles can be republished according to the rules mentioned above, without the need to include the view counter and links in a printed version.
If you choose this option, please send an image of the republished article to The Choice team so that the author can review it.
Podcasts and videos: Videos and podcasts whose copyrights belong to The Choice are also under a Creative Commons license. Therefore, the same republishing rules apply to them.