Earlier this month, the UK's advertising watchdog issued a warning to organisations that want to promote their sustainability credentials.
In a landmark ruling, the Advertising Standards Authority said that recent adverts by a group of oil and gas companies were tantamount to "greenwashing", or making themselves appear more environmentally friendly than they actually are.
Shell, Repsol and Petronas had misled the British public by promoting as "green" some of their services, such as renewable energy, without mentioning their much larger fossil fuel operations, the ASA said.
The case highlights just one of several types of greenwashing that some companies engage in: omitting material information that gives a misleading impression of rosier environmental performance.The energy groups were advertising that they were "green" while ploughing investment into new oil pipelines, refineries and rigs.
But greenwashing can take various forms. So what are they, and how can consumers and employees — who will want to support companies that are genuinely committed to environmental responsibility — spot the dubious claims?
To shed some light on the different sorts of greenwashing, we spoke with Valentin Martinie of Alerte Greenwashing, a citizen group aiming to spot and debunk misleading environmental claims.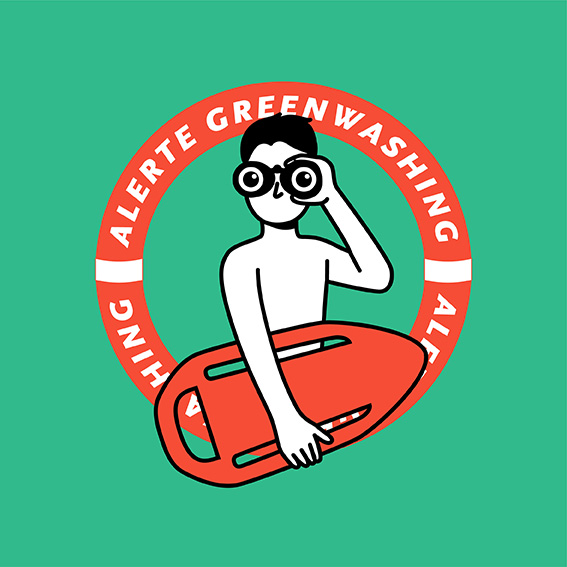 The ESCP alumnus splits the practice of greenwashing into four main "levels" that undermine our ability to make informed choices, while eroding our trust and hindering our contribution towards a more sustainable future.
A lack of disclosure or transparency makes it difficult for consumers to assess the true sustainability of products or services.
Level 1: Using the colour green
The first is when companies "green" their image by using the colour green in their logos or packaging to symbolise environmental awareness and sustainability, even when it's not really true. "It's a growing trend everywhere," Martinie says, explaining that green is strongly associated with nature, as it is the colour of many plants, trees and foliage.
It also represents growth, renewal and the natural world. "So unconsciously, we are attracted to the colour green," he says, adding that in some countries green is a positive signal related to school grades, traffic lights and bank accounts.
Level 2: Broad and ambiguous vocabulary
The second level of greenwashing is vocabulary — the words, terms and phrases used to describe a company's products or services. Businesses may use broad and ambiguous terms like "eco-friendly", "sustainable" or "natural" without providing specific evidence or transparent information about their environmental practices.
As a result, these claims are often vague or unsubstantiated, as our expert warns us:
"These words very often are fudged and conjured up without any norms and standards that accompany them," Martinie explains, adding that this second level of greenwashing is even more pernicious than the first. "It's really easy to mislead the audience by saying, for instance, that your website was eco-designed. What does it mean? We have no idea."
He provides two further examples. First, claiming carbon-neutrality, or achieving a balance between the amount of carbon dioxide (CO2) emitted into the atmosphere and the amount removed or offset. But he says most companies only account for their direct emissions (such as energy consumption) and forget those emitted along the supply chain (such as the use and disposal of products by consumers). Ultimately, such consumers and employees should be aware of the full picture.
Second, using carbon offsets. Their quality and credibility can vary, while verification processes can be complex. Therefore, it can be challenging to accurately measure the emissions reductions or removals associated with an offset project, leading to greenwashing. "A lot of companies claim to remove carbon from the atmosphere through tree planting, but trees take time to grow, so it can take potentially decades before the offsetting benefits are fully realised — time we don't have," Martinie says, given the urgency of tackling the climate crisis. He adds that wildfires can deplete the carbon credits in forestry projects.
It's really easy to mislead the audience by saying, for instance, that your website was eco-designed. What does it mean? We have no idea.
Level 3: Distraction from bigger problems
The third level of greenwashing is what Martinie calls "cherry-picking", or how some companies may highlight a minor environmental improvement or initiative while ignoring larger, more critical concerns related to their operations or products, such as the aforementioned UK energy companies. "This is a pure distraction from more significant environmental issues," our expert says. "A lack of disclosure or transparency makes it difficult for consumers to assess the true sustainability of products or services."
This was the case with customers of the bank HSBC, which ran misleading adverts in the build-up to the COP26 climate summit in 2021, promoting efforts to plant trees and provide finance to support the transition to net zero. However, HSBC was in reality one of the largest financiers of fossil fuels, information that it omitted from its adverts (which were banned by the ASA).
A lot of companies claim to remove carbon from the atmosphere through tree planting, but trees take time to grow, so it can take potentially decades before the offsetting benefits are fully realised — time we don't have.
Level 4: Lack of transparency
The fourth greenwashing level is when companies set sustainability goals but do not provide the bigger context around them. "Let's say I want to reduce my emissions by 50% per product," Martinie explains. "The problem is that we are only interested in the reduction of emissions in absolute terms, not related terms. So if I halve the emissions per product, but double production, then the result in absolute terms is zero. So the figures need to be communicated in a more holistic way."
Ultimately, greenwashing can mislead us and sow confusion, undermining legitimate efforts to promote sustainability. It is important for consumers and employees to be critical and informed when evaluating environmental claims made by companies— and to look for credible third-party certifications or independent verification of sustainability practices, our expert reminds us.
"We are losing precious time because of greenwashing. Collective, radical changes won't happen without the general public beginning to understand and assess companies' environmental claims," he says.Or, as one opinion piece put it: let's stop "greening ourselves to extinction".
License and Republishing
The Choice articles may be republished in accordance with the Creative Commons Attribution-NoDerivatives 4.0 International Public License, and in accordance with our
Term of use
.
The Choice - Republishing rules
We publish under a Creative Commons license with the following characteristics Attribution/Sharealike.
You may not make any changes to the articles

published on our site, except for dates, locations (according to the news, if necessary), and your editorial policy. The content must be reproduced and represented by the licensee as published by The Choice, without any cuts, additions, insertions, reductions, alterations or any other modifications.If changes are planned in the text, they must be made in agreement with the author before publication.

Please make sure to cite the authors of the articles

, ideally at the beginning of your republication.

It is mandatory to cite The Choice

and include a link to its homepage or the URL of thearticle. Insertion of The Choice's logo is highly recommended.

The sale of our articles in a separate way, in their entirety or in extracts, is not allowed

, but you can publish them on pages including advertisements.

Please request permission before republishing any of the images or pictures contained in our articles.

Some of them are not available for republishing without authorization and payment. Please check the terms available in the image caption. However, it is possible to remove images or pictures used by The Choice or replace them with your own.

Systematic and/or complete republication

of the articles and content available on The Choice is prohibited.

Republishing The Choice articles on a site whose access is entirely available by payment or by subscription

is prohibited.

For websites where access to digital content is restricted by a paywall, republication of The Choice articles, in their entirety, must be on the open access portion of those sites.

The Choice reserves the right to enter into separate written agreements

for the republication of its articles, under the non-exclusive Creative Commons licenses and with the permission of the authors. Please contact The Choice if you are interested at contact@the-choice.org.
Individual cases
Extracts: It is recommended that after republishing the first few lines or a paragraph of an article, you indicate "The entire article is available on ESCP's media, The Choice" with a link to the article.
Citations: Citations of articles written by authors from The Choice should include a link to the URL of the authors' article.
Translations: Translations may be considered modifications under The Choice's Creative Commons license, therefore these are not permitted without the approval of the article's author.
Modifications: Modifications are not permitted under the Creative Commons license of The Choice. However, authors may be contacted for authorization, prior to any publication, where a modification is planned. Without express consent, The Choice is not bound by any changes made to its content when republished.
Authorized connections / copyright assignment forms: Their use is not necessary as long as the republishing rules of this article are respected.
Print: The Choice articles can be republished according to the rules mentioned above, without the need to include the view counter and links in a printed version.
If you choose this option, please send an image of the republished article to The Choice team so that the author can review it.
Podcasts and videos: Videos and podcasts whose copyrights belong to The Choice are also under a Creative Commons license. Therefore, the same republishing rules apply to them.