La Redoute has a historic reputation as one of France's leading women's fashion retailers – in part thanks to its iconic catalogue, a mainstay of French homes for almost a century. We spoke to Nathalie Balla, ESCP Business School alumna and Co-Owner and CEO of La Redoute, for a closer look at some emerging trends in the fashion sector from the standpoint of one of its leading brands.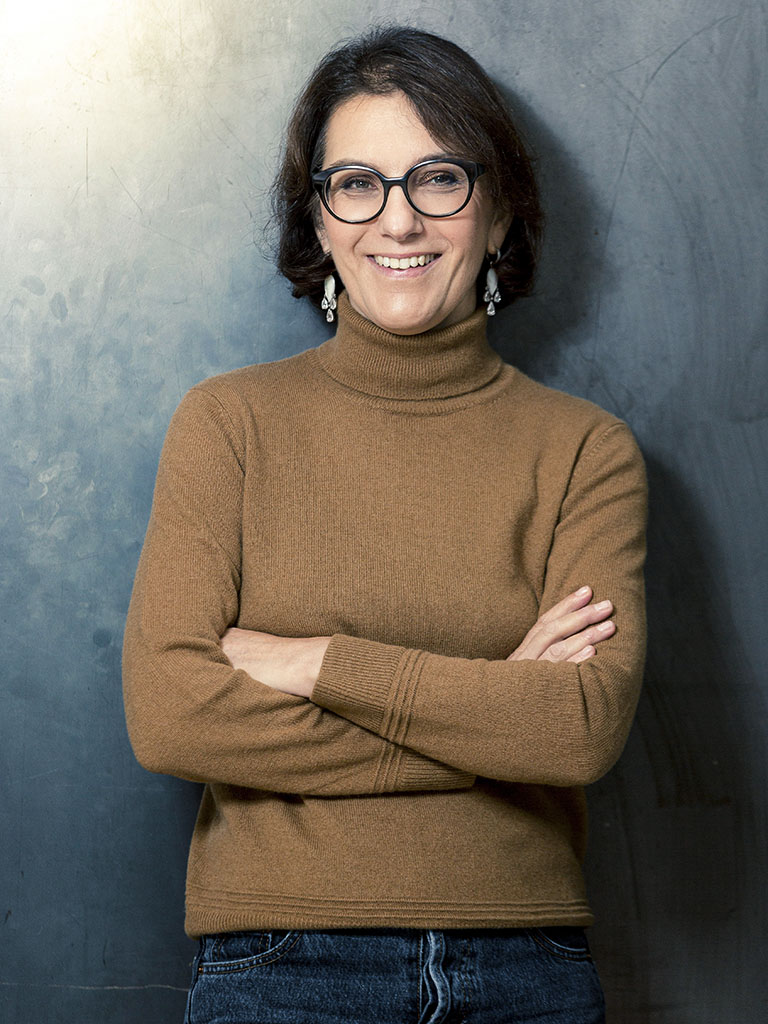 Hello Nathalie. La Redoute was founded over 180 years ago – so quite the history! Can you share with us some context about key moments in the company's digital transformation?
La Redoute is one of France's oldest fashion retailers, but our digital transformation really began to take off around 2010 when we undertook an in-depth digital transformation based on four key principles.
Firstly, we refined our market offer to concentrate on Fashion and Home Decoration – two sectors where we're a leading trendsetter – combined with a selective marketplace for our other Lifestyle categories.
Secondly, we completely transformed our business model – we stopped publishing our iconic catalogue at the end of 2015, gradually switching our marketing and sales investments to digital with a new website, a mobile application and an increased presence on social media.
Thirdly, we invested more than €50 million in a new fully automated logistics warehouse that allows us to process orders in 2 hours and deliver in 24 hours.
Finally, we carried out an in-depth assessment of our corporate culture and our CSR policy in order to involve all employees from the ground up. Thanks to this transformation, La Redoute, within the Galeries Lafayette group which we joined in April 2018, is today continuing to pursue profitable and responsible growth in France and internationally.
In the years since La Redoute began its shift towards digital, what have been some of the biggest changes to the e-commerce sector – in particular fashion?
As a result of Covid-19, customers' buying habits are changing. Today, they prefer to visit large stores in open and easily accessible areas, even as cities are suffering from the drop in tourism.
Since 2020, there has been a transition from shopping as a leisure activity to more efficient, planned purchases, as evidenced by the sharp reduction in footfall.
The change of working environment with the rise of working from home has also had a big impact, which I think will stay for the medium to long term. On the flipside, this has helped to fuel e-commerce growth, as well as changing the types of products consumers are looking for: leisure clothing, home décor and home improvement products are more popular than ever, to name a few.
Outside of fashion, new forms of retail are emerging like dark kitchens and fast delivery companies such as Gorillas and Picnic.
If we look at 2020, online sales of store brands went up significantly over the year, with peaks of +100% during the two lockdowns – astonishing figures. This led to a huge increase in the number of home deliveries, click & collect and drive-thru shopping.
Thanks to our digital transformation, we were in a position to respond to this unprecedented demand as a result of our strong Home and Decoration range, our improved services and our data-driven agility.
This helped us to provide appropriate customer-centric solutions in a very fast-changing environment, one which typical e-commerce data models were unprepared for. Our La Redoute App also came into its own during this period, both in terms of traffic and sales.
A brand stands out and retains its community on social media platforms when it offers its customers a qualitative, fluid and seamless end-to-end shopping journey, from the web and apps, through social media and CRM, to (eventually) the in-store experience.
From shopping to social media, our online habits have increased over the last two years. How important is social media in the e-commerce journey and brand identity?
As a retailer, the challenge lies not only in the impact of social media itself, but in the overall quality of the omnichannel customer experience. A brand stands out and retains its community on social media platforms when it offers its customers a qualitative, fluid and seamless end-to-end shopping journey, from the web and apps, through social media and CRM, to (eventually) the in-store experience.
What's more, it has to be consistent: winning customers is important, but brands can only retain them when they demonstrate alignment and consistency between what it is, what it says and what it does. This is particularly true with regard to the CSR choices and commitments that are becoming an expected and much-observed part of a brand's identity.
Concretely, we launched the hugely successful Redoute Challenge on TikTok, inviting aspiring fashion fans to post videos of themselves to become the future models of La Redoute.
And of course, like most fashion brands, we work with the influencer community to reinforce the desirability of the La Redoute brand.
How has the pandemic affected the e-commerce sector?
As I mentioned earlier, the Covid-19 crisis, France's two lockdowns and the closure of non-essential stores led to a huge surge in e-commerce transactions in France. This unprecedented situation forced the last remaining latecomers to move online.
The first few months were very difficult, with sales collapsing by more than 60% after the announcement of the first lockdown in mid-March 2020.
Recovery began quickly from April onwards with exceptional growth observed in certain product categories such as childrenswear and games, household linen, garden furniture, kitchen appliances, sewing machines, and so on.
Perhaps surprisingly, the increase in e-commerce sales has continued to grow even further in 2021, exceeding 129 billion euros in 2021 – up 15.1% over the year. Overall, e-commerce now represents 14.1% of retail trade in France compared to 13.4% last year. We can conclude that the omnichannel model is now entering a period of huge growth, with the complementarity between digital commerce and in-store commerce now obvious.
Our customers expect a smooth and seamless shopping experience by easily switching from one world to another. They are also becoming increasingly demanding when it comes to the quality of services, especially on delivery times.
As a result of this transformation, the net promoter score (NPS) is now one of the most important KPIs for any company.
Winning customers is important, but brands can only retain them when they demonstrate alignment and consistency between what it is, what it says and what it does.
Can you give some examples of what La Redoute has done to continue weathering the storm and improve the customer experience?
As a result of the pandemic, we have concentrated our efforts on two areas in particular. First of all, we launched our secondhand site – "La Reboucle" ("The Loop"). Our goal is to enable our customers, who are increasingly interested in second-hand goods, to combine a CSR-focused approach and purchasing power.
We're not trying to compete with secondhand actors like Vinted or eBay – instead, we're tailoring our existing offer for our customers and store visitors, offering a 25% matching contribution if the customer chooses to be remunerated with a La Redoute gift card.
After analysing our customers' habits and priorities, it was a relatively easy and intuitive decision to make.
Alongside this, we launched our "Live Shopping" on Instagram carried out by our internal teams, focusing on Fashion and Home Decoration. Customers are able to see the products modelled in real-time, as though they were in-store, worn by team members and hosted by live personal shoppers. It's a truly interactive experience.
Finally, what are some recent e-commerce trends that La Redoute has will be exploring in coming months?
As we head into 2022, we've noticed several trends that have already been very significant in recent years. First of all, we're paying more attention than ever to data security, which goes hand in hand with a safe digital purchasing process. We're also focusing on the CSR expectations of customers, with more specific emphasis on products that are made in France, as well as second-hand and upcycling. Finally, we're looking to transform our "Live Shopping" into a new and innovative communication channel, introducing a more human dimension into the somewhat cold world of digital, and which makes it possible to combine spontaneity and emotions.
The challenge for the future is to better control data and artificial intelligence, which allow us to personalise interfaces, services and our communication. On all these subjects, La Redoute is moving forward pragmatically in order to provide its customers with a high-quality shopping experience.
License and Republishing
The Choice articles may be republished in accordance with the Creative Commons Attribution-NoDerivatives 4.0 International Public License, and in accordance with our
Term of use
.
The Choice - Republishing rules
We publish under a Creative Commons license with the following characteristics Attribution/Sharealike.
You may not make any changes to the articles

published on our site, except for dates, locations (according to the news, if necessary), and your editorial policy. The content must be reproduced and represented by the licensee as published by The Choice, without any cuts, additions, insertions, reductions, alterations or any other modifications.If changes are planned in the text, they must be made in agreement with the author before publication.

Please make sure to cite the authors of the articles

, ideally at the beginning of your republication.

It is mandatory to cite The Choice

and include a link to its homepage or the URL of thearticle. Insertion of The Choice's logo is highly recommended.

The sale of our articles in a separate way, in their entirety or in extracts, is not allowed

, but you can publish them on pages including advertisements.

Please request permission before republishing any of the images or pictures contained in our articles.

Some of them are not available for republishing without authorization and payment. Please check the terms available in the image caption. However, it is possible to remove images or pictures used by The Choice or replace them with your own.

Systematic and/or complete republication

of the articles and content available on The Choice is prohibited.

Republishing The Choice articles on a site whose access is entirely available by payment or by subscription

is prohibited.

For websites where access to digital content is restricted by a paywall, republication of The Choice articles, in their entirety, must be on the open access portion of those sites.

The Choice reserves the right to enter into separate written agreements

for the republication of its articles, under the non-exclusive Creative Commons licenses and with the permission of the authors. Please contact The Choice if you are interested at contact@the-choice.org.
Individual cases
Extracts: It is recommended that after republishing the first few lines or a paragraph of an article, you indicate "The entire article is available on ESCP's media, The Choice" with a link to the article.
Citations: Citations of articles written by authors from The Choice should include a link to the URL of the authors' article.
Translations: Translations may be considered modifications under The Choice's Creative Commons license, therefore these are not permitted without the approval of the article's author.
Modifications: Modifications are not permitted under the Creative Commons license of The Choice. However, authors may be contacted for authorization, prior to any publication, where a modification is planned. Without express consent, The Choice is not bound by any changes made to its content when republished.
Authorized connections / copyright assignment forms: Their use is not necessary as long as the republishing rules of this article are respected.
Print: The Choice articles can be republished according to the rules mentioned above, without the need to include the view counter and links in a printed version.
If you choose this option, please send an image of the republished article to The Choice team so that the author can review it.
Podcasts and videos: Videos and podcasts whose copyrights belong to The Choice are also under a Creative Commons license. Therefore, the same republishing rules apply to them.